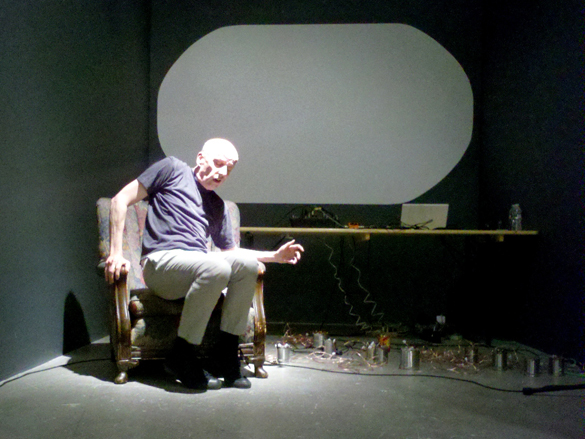 Photo: Chaz Miller.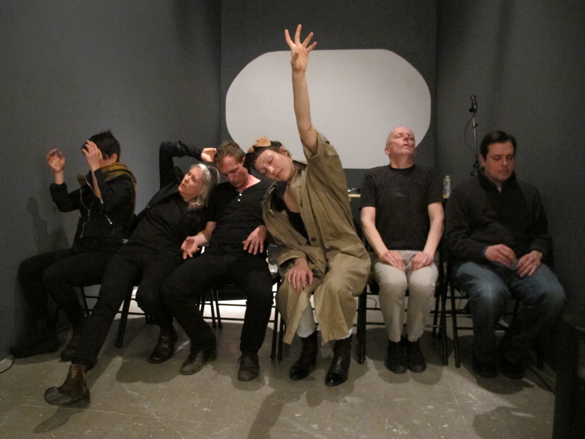 Photo: Anthony Elms. Performers: Anastasia Ax, Marja-leena Sillanpää, Lars Siltberg, Erin Leland, LE, Philip von Zweck. Performance: Leif Elggren "That Little Idiot Telling Truth" April 17, 2013. Institute of Contemporary Art, Philadelphia, Pennsylvania. "Experience a rare stateside sound performance by the renowned artist, writer, and musician Leif Elggren. Based in Sweden, Elggren enjoys the title of King of Elgaland-Vargaland. His photographs are currently on view in the exhibition White Petals Surround Your Yellow Heart." February 6-July 28, 2013. Curated by Anthony Elms. More information here and here.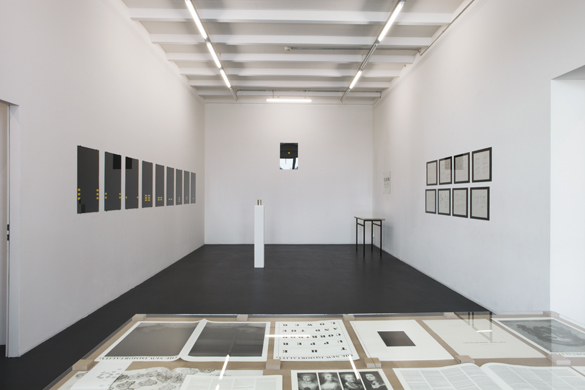 Yellow Jacket. Exposition: ILIOS (GR) – LEIF ELGGREN (SE) – PHILIPPE DAERENDINGER (CH) April 11-May 26, Oslo10, Münchenstein (Basel), Switzerland. More information here.
Stream of Unconscious Vol. 9, 2013, SUT-13.9. Ltd. Ed. C90 Chrome Cassette. Published by: Stand-Up Tragedy Records. Vocals by Bryan Lewis Saunders. Music by Leif Elggren and John Moloney. Art and Design by Alice Salyer. Edition of 80. Comes with 6 page booklet of text. 1 – Leif Elggren "Double Sleep" – 45:00. 2 – John Moloney "Pyro" – 30:30. More information here and here.
THE ROCKING CHAIR, Edgar Allan Poe & Leif Elggren (flexi disc, Firework Edition Records ). Featuring "The Metaphilosophy Of Furniture", a text insert by Michael Esposito. Featuring "Uptown", a text insert by Jonas Ellerström. This recording was done on the 29th of April 2012 at the Edgar Allan Poe Cottage, Poe Park, East Kingsbridge Road and Grand Concourse, Bronx, NY, USA. What you hear on the recording is Poe's original rocking chair rocking. Released January 29, 2012 at Järnvägsrestaurangen Östra Station, Stockholm together with "bring new life to 33 of them" (flexi disc, Phantom Archive, USA) by Marja-leena Sillanpää.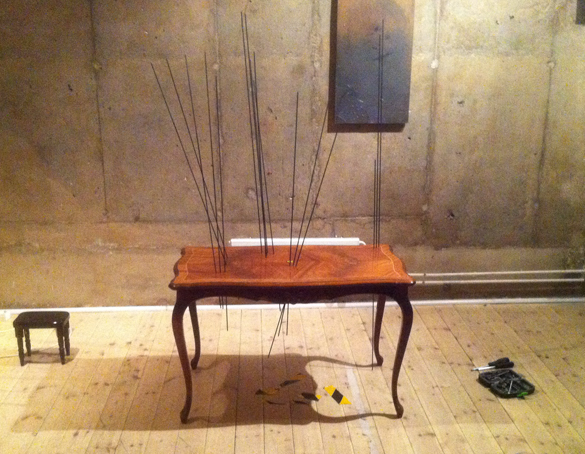 TABLE. A wounded table-top as a part of: I en kombination av utställning, konsert- och videoserie, performance, arkiv och seminarier har den göteborgsbaserade konstellationen The Marble Fauns, det vill säga Isak Eldh och Magnus Haglund, skapat föreställningen The David Bowie Museum som äger rum på Skogen i Göteborg 8-17 februari 2013. More information here
White Petals Surround Your Yellow Heart. Institute of Contemporary Art, Philadelphia. Public Opening: February 6, 6-8pm, Through July 28, 2013. Hilton Als; Lynda Benglis; Bernadette Corporation; Genesis Breyer P-Orridge; Dexter Sinister with Halmos (Erik VVysocan); Leif Elggren; Anne-Mie Van Kerckhoven; Karen Kilimnik; Irena Knezevic; Inez van Lamsweerde & Vinoodh Matadin; Erin Leland; Zoe Leonard; Wardell Milan; Paulina Olowska; Seth Price; Rammellzee; Nick Relph; Carissa Rodriguez; Aura Rosenberg, John Miller & Frank Lutz; Nader Sadek; Frances Stark; Catherine Sullivan; Scott Treleaven; Amy Yao (Amy Amy Yow). More information here
Pataphysics Magazine. "To talk through one's nightcap", a text by LE published by Yanni Florence. in the Pataphysics Magazine.
Francisco Meirino & LE live at Oblo, Lausanne 11.11.12. Video by Moju. More information here
LE performs "Under The Bed" live at Standard/De Luxe Gallery, Lausanne 10.11.12. Video by Moju. More information here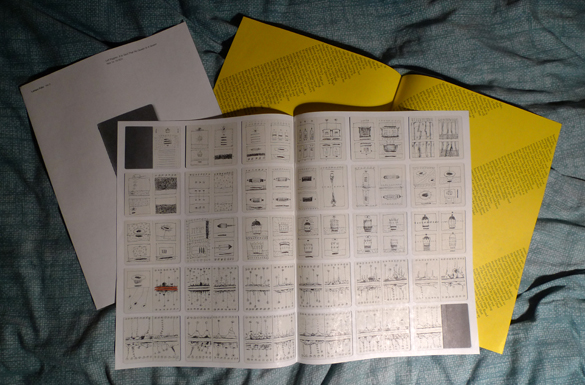 Lampo Folio No.3. Leif Elggren "It Is Said That No Queen Is A Queen" Nov 14-19 2011. Graphic design by Alisa Wolfson. Edited by Andrew Fenchel. During a week-long Chicago visit, Swedish artist LE created a notebook of drawings and refined his text-sound work, "It Is Said That No Queen Is A Queen". At Lampo he performed this piece and others, including an improvisation for twin hair clippers jammed with saw blades. Presented in partnership with the Graham Foundation for Advanced Studies in the Fine Arts. More information here
Robert & Leopold: Leif Elggren – SLEEPWALKING. C30 Cassette (R&L035). Edition of 100. More information here
Antifrost, Voice Tapes Series vol.2: Leif Elggren – WE ARE BORN TO BECOME ANGELS (a work in progress). 36′. Cassette (afro2046). Edition of 50. More information here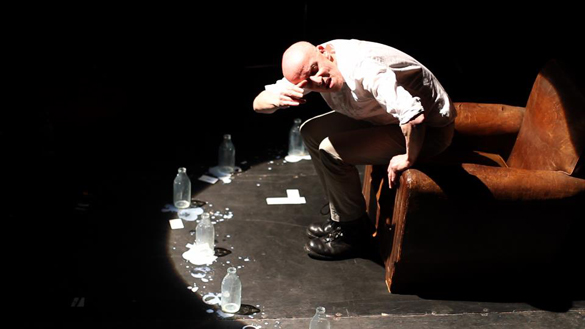 Photo: Zoë Valls. "That Little Idiot" – a performance by Daniel Löwenbrück and LE.
EXTREME RITUALS – A SCHIMPFLUCH CARNIVAL. A festival of Extreme Music and Performance celebrating the work and legacy of the Schimpfluch-Gruppe art collective. 30 November – 2 December 2012 at The Arnolfini, 16 Narrow Quay, Bristol, England. With: Runzelstirn & Gurgelstøck, Sudden Infant, G*Park, Dave Phillips, Phurpa, GX Jupitter-Larsen, Vagina Dentata Organ, The New Blockaders, Junko Hiroshige, Trevor Wishart, Leif Elggren, Bryan Lewis Saunders, Vicky Langan, Alice Kemp, Daniel Löwenbrück, Ute Waldhausen, Doreen Kutzke,, Michael Barthel, Joachim Montessuis, Rashad Becker, Christian Weber, M Vänçi Stirnemann, Mike Dando, Ron Athey and more + Schimpfluch Film Programme, Psychic Rally Sound Installation, Schimpfluch Photographic Exhibition including work from Rudolf Eb.er & Joke Lanz, Talks and Discussions, Workshop. More information Sound and Music here and Tochnit Aleph here.
ANDLIGHET I KONSTEN. tsnoK. More information here.