Leif Elggren & Emanuel Swedenborg live at Lausanne Underground Film & Music Festival 17.10.2013. Video by Moju. More information here and here and here.

Photo: Francisco Meirino. MOVEMENTS IN THE DUST. Solo Exhibition by LE. Curated by Francisco Meirino. October 19 – November 3, 2013. Opening, Reception & Performance: Saturday, October 19, 2-6 pm. Galerie Standard / Deluxe, Rue St. Martin 38, Lausanne, Switzerland. More information here and here. In collaboration with LUFF (Lausanne Underground Film Festival).
IS THERE A SMELL ON THE OTHER SIDE?. Solo Exhibition by LE. October 5 – October 25, 2013. Curated by Daniel Löwenbrück. Opening, Reception & Performance: Saturday, October 5, 6-9 pm. Rumpsti Pumsti (Musik), Am Treptower Park 17, 12435 Berlin. More information here.
Photo: Laura Fusato. DANIEL LÖWENBRÜCK & LEIF ELGGREN Sept 21st 2013 22:00 at NK, Elsenstr. 52/2.Hinterhaus Etage 2, 12059 Berlin Neukölln. More information here and here and here.
AT THE MOMENT OF BEING HEARD. 28 Jun-8 Sep 2013, South London Gallery and local venues. Curated by Simon Parris. This group exhibition includes works by: crys cole / Leif Elggren / Rolf Julius / Eli Keszler / Baudouin Oosterlynck / Reiner Ruthenbeck. Performances, special events and installations:
Oren Ambarchi / Tom White / Tetsuya Umeda / Baudouin Oosterlynck / La Cellule d'Intervention Metamkine / The Woodmill / Junko Wada, Miki Yui and Rie Nakajima / Henning Christiansen / Barby Asante / Marina Rosenfeld / Marginal Consort. At the moment of being heard brings together works and performances by a group of international artists, musicians and composers engaging with sound and modes of listening. Installed throughout the galleries and connecting spaces, the exhibition is presented in parallel with a series of live performances and special events, both at the SLG and at nearby off-site venues as part of SLG Local. More information here.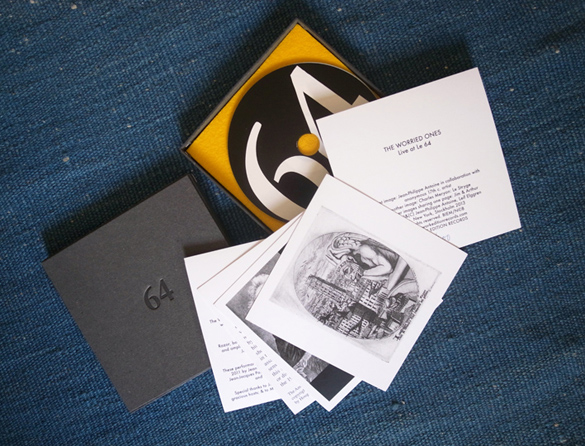 The Worried Ones Live at Le 64. Recorded at Le 64 in Paris on February 16, 2011 by Jean-Jacques Palix and Eric Maurin. Mixed by Jean-Jacques Palix, with slight additional work by The Worried Ones, and mastered at EMS studios in Stockholm. Jean-Philippe Antoine, Leif Elggren. Box with 7 prints and a CD. More information: Firework Edition Records here and Norrmalms Kartongfabrik here and Beyond The Coda here.
Infinity Plus One For Henning Christiansen, a sound installation (and a memorial space) by LE as a part of "The Hammer Without a Master: Henning Christiansen's archive", 22.6 – 11.8. 2013, Kunsthal 44 Møen, Denmark. A festival and exhibition of new composition and visual art in a newly acquired building beside the Kunsthal's main gallery. Hammer Without a Master responds to the compositional works of Danish Fluxus artist and composer Henning Christiansen, inaugurating the new building as the future summer residency house for young composers, curators and artists as well as permanent home of the Henning Christiansen Archive. Curated by Chiara Giovando, the exhibition invites eleven sound artists and composers to create several site-specific works and two newly commissioned compositions that will launch the future site of Fluxus artist and composer Henning Christiansen's archive. More information here.
Sleep Disorders. Lundi 24 juin 2013, à partir de 18h30, avec: Marc Bauer, Romain Bernini, Barbara Breitenfellner, Leif Elggren, Agnès Geoffray, Natacha Lesueur, Myriam Mechita, Marion Auburtin, Benjamin L. Aman. Cité Internationale des Arts (Montmartre), 24, rue Norvins, 75018 Paris. More information here.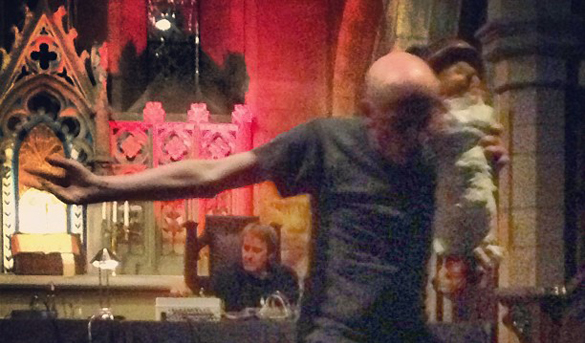 Photo: Mike Bullock. Non-Event presents: Secrets of Heaven by LEIF ELGGREN + CM VON HAUSSWOLFF
 (2 solo sets, 1 Duo Set) at the Swedenborg Chapel, 50 Quincy Street, Cambridge, MA, (Harvard Square), 8 p.m. (Doors: 7:30). Curated by Susanna Bolle. More information here and more photos here and a video clip here.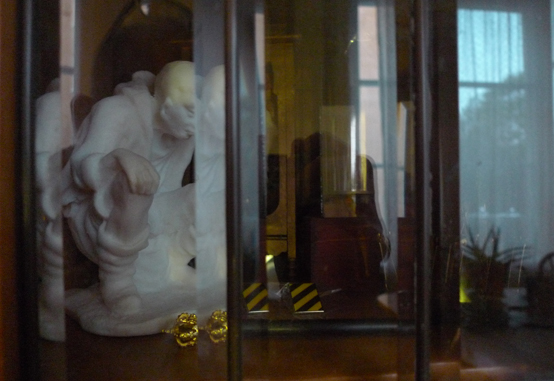 In progress
Aufabwegen presents: 18. & 19.05.2013, 17.30 – 20.00h. Moers festival 2013. Concerts in the dark: Energy! 20 minute live performances in total darkness by: LEIF ELGGREN (S/KREV), KALLABRIS (D), GIANCARLO TONIUTTI (IT), KASSEL JAEGER (F), PRSZR (AT/PL) at: Studio of Schlosstheater Moers, Kastell 6, 47441 Moers, Germany. More information here.
16.05.2013, 20.30h, reihe M, The Swedish Scene, live: THE SONS OF GOD (Leif Elggren + Kent Tankred), SEWER ELECTION, DAG ROSENQVIST, RONNIE SUNDIN plays RUNE LINDBLAD at Stadtgarten, Venloer Str. 40, 50672 Cologne, Germany. More information here, and at www.reihe-m.de and also at www.stadtgarten.de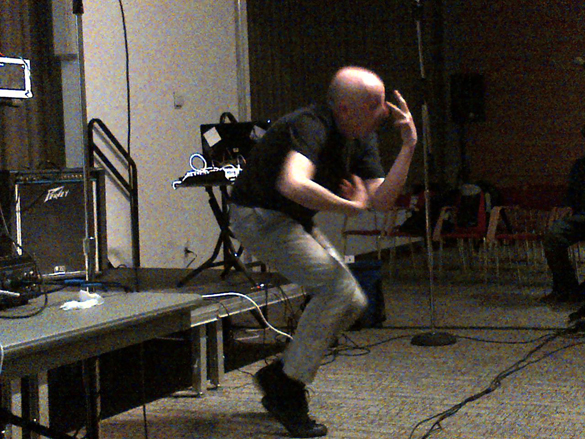 Photo: Andrea Beeman. The MEGAPOLIS Audio Festival is a weekend-long event dedicated to the art of sound. Artists including documentarians, technologists, musicians, educators, urban planners, scientists, radio producers, and fans interact to share secrets on producing and presenting challenging audio works online, on-air, and on the stage. MegaFest 3 in New York City, April 19-21, 2013, with our headquarters at the New School, starting at 2pm on 4/19, at our registration desk @ 66 West 12th St. All in one breath. More information here.