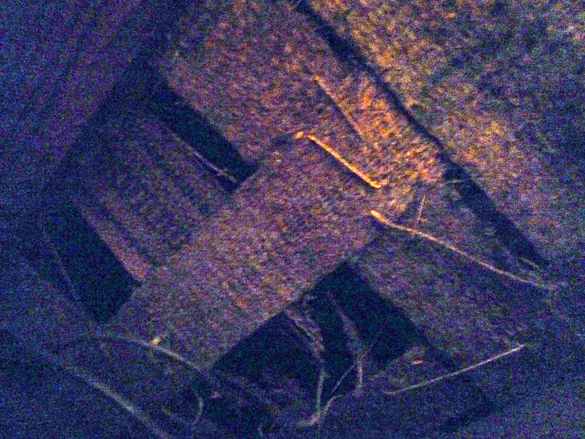 26 November 2012 at 7pm 'UNDER FREUD'S COUCH' by Leif Elggren at the Freud Museum, London. Curated by Lucia Farinati. Performance, presentation and discussion. Join us this evening for a special performance and presentation by Leif Elggren, followed by a discussion between the artist and curator Lucia Farinati, chaired by Freud Museum curator, Ivan Ward. Freud's iconic psychoanalytic couch; an object which besides being a museological symbol that epitomizes the life and work of the father of psychoanalysis, is also a poignant listening device for recording the unheard and the unseen. It was on this couch, which inhabited the consulting rooms of both 20 Maresfield Gardens in Hampstead and Berggasse 19 in Vienna, that patients were listened to; a liminal space where free association and dreams were gathered and, in a certain way, a key listening point for the development of Freud's analytical work. In this constructed space, a new form of listening was made palpable through the discovery of the unconscious and the birth of psychoanalysis. Using the microphone as a kind of third ear, Elggren's recording under the couch brings to the forefront the potential to understand musical listening almost like a psychoanalytic treatment. 'Under the Couch' is a new CD release by Leif Elggren on Firework Edition Records with a critical text by Lucia Farinati and will be available on the night. Leif Elggren is a writer, visual artist, book publisher, stage performer, and composer based in Stockholm. His varied and prolific output routinely involves dreams, subtle absurdities, and social hierarchies turned upside-down. His audio work, mostly conceptually based, but also often created as the soundtrack to an installation or performance, has been released on labels such as Ash International, Touch, Radium and his own Firework Edition. Lucia Farinati is an independent curator and researcher based in London. She is the Director of Sound Threshold, a long-term research project which explores the relationships between site, sound and text.
CM von Hausswolff and The Sons of God. Electronic and Computer Music Series Event. Tuesday, November 20th, 2012. Doors 21h. Concerts 21.30 sharp. Event curated by Manuela Benetton.
 Kindly supported by Initiative Neue Musik e.V. at FEED Soundspace, Hobrechtsraße 65 | Hinterhaus, Etage 4 | 12047 Berlin-Neukölln. www.6554.de/category/events/
www.facebook.com/events/519127218116566/
LIVE PERFORMANCES Switzerland Francisco Meirino & Leif Elggren – death travels backwards – mini-tour. 07.11.2012 at Cave12, Ecurie – Geneva, solo & duo live performances. 08.11.2012 at House Of Electronic Arts – Basel. solos & duo & trio live perf. + Christina Kubisch: http://www.christinakubisch.de/ – 10.11.2012 at Standard/Deluxe art gallery – Lausanne, Leif Elggren's "Under The Couch" solo perf. 11.11.2012 at Cinéma Oblò – Lausanne, Leif Elggren's "Death Travels Backwards" screening + duo live perf. with Francisco Meirino: http://www.franciscomeirino.com
CCSEVEN Let Me Lose Myself – Episod IV: Nadine Byrne, Leif Elggren. Opening: November 4th, 2912, 12-3 pm, Visitors' Center, Skogskyrkogården, the Woodland Cemetery in Stockholm. Let me lose myself presents the forth episode of sound art created for Skogskyrkogården, Stockholm's woodland cemetery. In the course of several years, layer upon layer of site-specific sound art that in different ways is inspired by this multi-faceted place with its unique landscaping and cultural heritage is being produced. The sound art pieces can be downloaded or streamed from our website: here. Visitors can come to Skogskyrkogården and experience the artworks any time of the day all year round.
FAUST – 3 november 2012, Riche (lilla baren), kl. 22.00 – 02.00. LEIF ELGGREN gästar konstklubben FAUST. "April 1949 osv…" – Nio månader innan den moderna erans födelse i den västerländska världen sker en avgörande befruktning som inledningsvis kan åhöras på denna inspelning. Stycket redovisar sedan några udda nedslag under de år som sedan dess passerat. "April 1949 osv…" kan betraktas som en text-ljudkomposition på ca. 30 minuter. Allt återstår.
26.10.12 iDEAL100 på RÖNNELLS ANTIKVARIAT, Stockholm! Joke Lanz, Lotta Melin, Joyce Ip, Johannes Heldén Roberto N Peyre & Leif Elggren! Kassett-dj: Sand Circles. More information here and here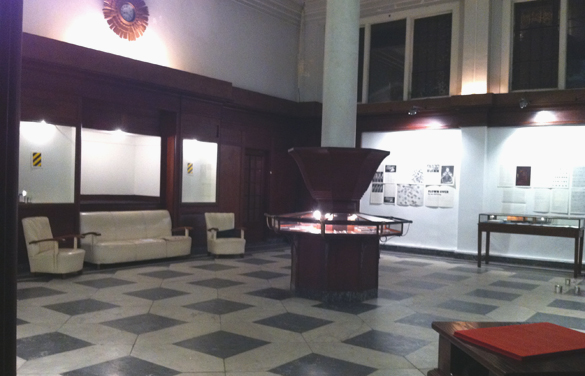 AN ENCOUNTER. SLY PROP OTTER, Bilderdijkstraat 165, 1053KP Amsterdam. An Encounter, a sound installation by Leif Elggren, with exhibition text by Rahma Khazam. 'Sacramental Meals', Elggren's artist book, will be freely available as pdf. Special brews from the Butcher. OPENING RECEPTION: 12 October, 7–9pm. More information here
Mussel, Muse, Medusa. Jean-Philippe Antoine and Leif Elggren with Julie K Voss as the Muse. Thursday Sept. 6 Noon, University College, London. British Première of Moule, Muse, Méduse, as part of the "Re : towards 'minor' histories of exhibitions and performances" Conference. More information here
Centerfield | Embodying the Disembodied: Leif Elggren at LAMPO. August 28th, 2012 by Caroline Picard. More information here
0019 survey of Classwar Karaoke is published. More information here
SLEEP DISORDERS. More information here
ARTonAIR Experimental Composers: The Kings of Elgaland-Vargaland. Hosted by David Weinstein. Originally aired on Monday, July 23rd, 2012. A 2012 conversation and listening session with the two Swedish artists, Leif Elggren and C.M. von Hausswolff who created the enduring geo-political conceptual work known as The Kingdoms of Elgaland-Vargaland whose territories consist of all trans-border, interstitial spaces: geographical, mental and digital (including the space between life and death). David Weinstein and guest host Egnekn Montgomery, one of the ministers of the kingdoms, get a rare and complete explanation of the project. Listen and more information here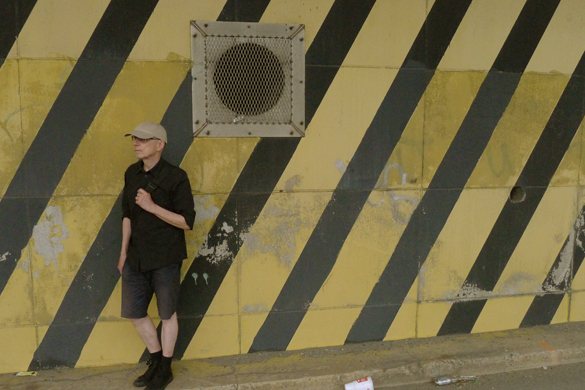 Y&Brooklyn. New Y&B painting at Brooklyn waterfront, Brooklyn Heights, NY. Photo: Fabio Roberti.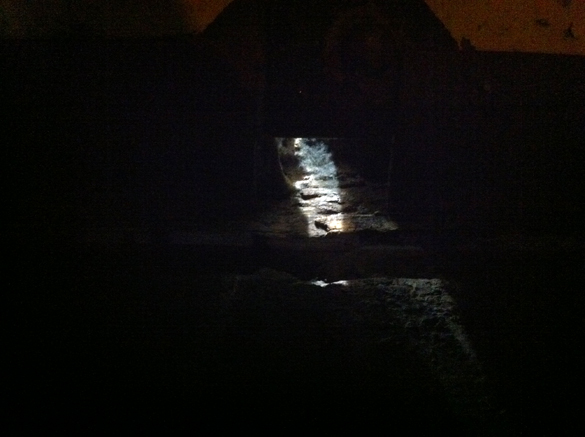 A LIGHT FROM THE OTHER SIDE. July 4, 2012, 102 W 23rd Street (between 6th and 7th Ave.), New York City. Witnessed by Ken Montgomery, Andrea Beeman, Marja-leena Sillanpää. Photo: LE.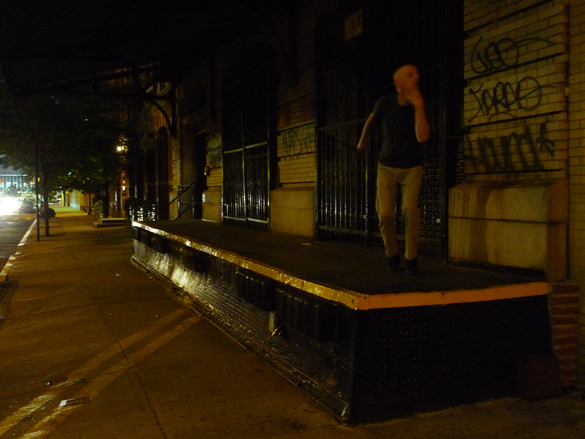 DANCING IN THE STREET. January to August. Solo dance by LE every Monday from 10pm at Clarkson Street (corner of Hudson) NYC. Duration of performance 5-7 minutes. – The last dance was performed on Monday the 27th of August, 2012.
UNDER THE COUCH (Fire­work Edition Records, FER 1100): Wo hat der Schwede nicht schon Hamlets Vater, Gottes Sohn, Marxens Gespenst, dem Leben nach dem Tod, den Müttern, den Träumen und den Erinnerungen nach­gespürt – im Schlaf (Zzz…), unter Pflas­tersteinen (The Cobblestone Is The Weapon Of The Proletariat), in der La­trine, in Claude Mellans Gravur des Schweißtuchs der Hl. Veronika (The Sudarium Of St Veronica), in Emanuel Swedenbords Sommerhaus (The Sum­merhouse (Stockholm)), unter dem Bett (45 Minutes From Underneath The Beds). Da war es nur folgerichtig, ein ganz be­stimmtes und zum Thema vielverspre­chendes Möbelstück zu belauschen und zu untersuchen – Freuds berühmtes Chaise­longue, das er 1938 von der Berggasse 19 in Wien in die Emigration mitnahm nach London, wo es noch heute in 20 Maresfield Gardens, Hampstead steht. Wie Diderots Sultan Mangogul mit seinem Zauberring die 'indiskreten Kleinode' der Damen dazu brachte, aus dem Nähkästchen zu plaudern, lässt Elggren Freuds Chaiselongue spre­chen, die ja deutlich ihre Herkunft als Ottomane verrät. Sie spricht zwar nicht wie ein Papagei und verrät anderes als das Sofa von Crébillon fils. Elggren interessieren ja auch nicht die Indiskretionen von unterhalb der Röcke. Er schob seine Nase, oder zumindest sein Mikrophon, dorthin, wo am ehesten sich die Auskünfte des Unter­bewusstseins und die Traumreste niedergeschlagen haben, unter der Decke. Freud war zwar auf Nasen fixiert gewesen und auf Blicke, auf die 'Urszene' und das Imagi­näre. Weitgehend unmusikalisch, wie Gustav Mahler feststellen musste, wollte er vor allem hören, was sich dem Auge entzogen hat. Dabei hatte es Nietzsche schon be­seufzt: Sie hätte singen sollen, diese 'neue Seele' – und nicht reden! Elggren lauscht ihm nun, dem stummen Gesang der Seele, dem Gespenst der Musik, der Musik der Gespenster, die sich in den Webfäden und Staubpartikeln verbirgt. Elggren kratzt als Psychoakustiker am blinden Fleck der Psychoanalyse. Als Kind hatte er sein König­reich unter dem Bett bezogen, wo er viel Zeit mit Lesen und Knabbern verbrachte. So wurde er zur Künstler-Schnecke, die das Bett als Vehikel für das Gebären, Schlafen, Träumen und Sterben mit sich führt und es zugleich unterläuft. Der Platz unter dem Bett ist wiederum ein blinder Fleck der Lebensprozesse und daher in seiner Sur-rea­lität der beste, um Lauschangriffe auf diese Prozesse zu starten. Was verät nun Freuds Chaiselongue? Dass zirpend und zittrig knisternd ein Sekundenpuls tickt. Stimmen und Schritte von Besuchern sind so gedämpft, dass sie fast nicht wahr scheinen. Fakt ist allein der tickende Puls, den, so wie das klingt, ein Gerät auf der Intensivstation mitzuzählen scheint. Bedeutet zu leben Patient zu sein, weil wir von Anfang an leiden an der Sygdommen til Døden? Am Todestrieb? Nach Slavoj Žižek war das Freuds Name für das 'untote', ewige Leben selbst, für den 'untoten', also doch auch gespenstischen Drang wider die Vernunft und über bloßes 'nur leben' hinaus. Ist das die unter Freuds Sofa verborgene Antwort auf jedes Ach heile mich, du Arzt der Seelen? [BA 74 rbd] [Bad Alchemy 74, Rigobert Dittmann]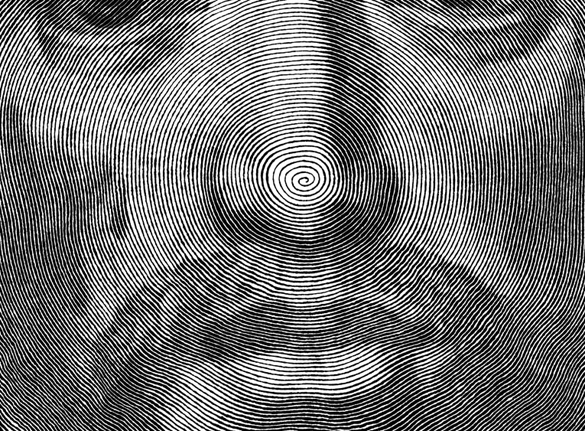 The first record ever cut: THE SUDARIUM OF ST VERONICA (1649) by the French artist Claude Mellan (1598-1688). Three different recordings are available on a CD (FER1065) on Firework Edition Records. More information here and here
RADIO BOREDCAST NOW ARCHIVED AT WFMU! 20 June 2012. We are very pleased to inform you that Radio Boredcast has now been archived in its entirety at WFMU. Given that Radio Boredcast is a 744-hour online radio project, we consider today, The Longest Day, a most appropriate time to make this announcement. Curated by Vicki Bennett (People Like Us) with AV Festival, Radio Boredcast responds to our ambiguous relationship with time – do we have too much or not enough? – celebrating the detail, complexity and depth of experience lost through our obsession with speed. BASIC.fm first hosted the project through the duration of AV Festival (1-31 March 2012) and now this unique and colossal archive is accessible for "Listen on Demand" at freeform radio station WFMU here. An impressive list of participants were invited to create new radio shows, audio works and mixes in response to the AV Festival theme "As Slow As Possible" and thematic playlists and contextual programming surround these creations. Thematic playlists run throughout from "Acconci" to "Zzz" programmed by Vicki Bennett. This has been a great project to curate and create, and although the theme is Slowness, we urge you to get over there now and have a listen! Listen to Radio Boredcast info here. Co-commissioned by AV Festival info here and BASIC.fm info here. Vicki Bennett info here. Blog entry info here. WFMU info here.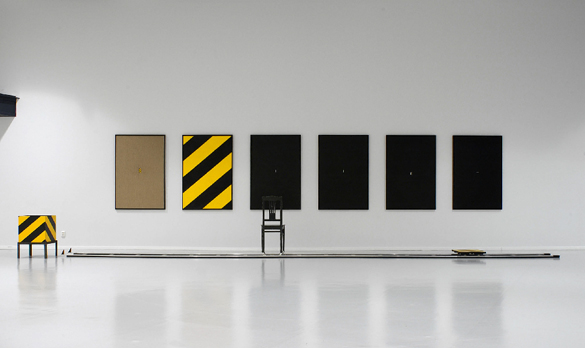 Y&B. Installation with small vehicle (1977-83). From the ongoing project Yellow & Black. This installation is a part of the Moderna Museet collection, Stockholm. More information here. Photo: Moderna Museet/Åsa Lundén.
Y&BPINS. Edition of 200 signed and numbered copies, 17 x 24 mm. Photo: Otto Elggren.