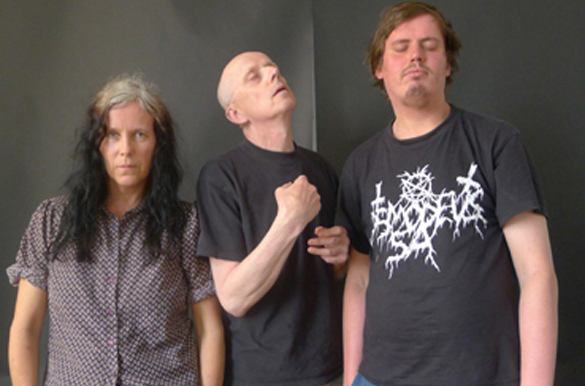 TREDJE STATSMAKTEN (the third power). Performance and recording together with Pär Thörn & Marja-leena Sillanpää at ISCP Brooklyn, NY. 21 May 2012.
NOISE PARK here.
Substrat Radio #9 Die Pest (2012-04-01) here.
KREV article by Steven Kaplan here.
A Swedish translation was published in the Swedish art magazine Paletten 2007.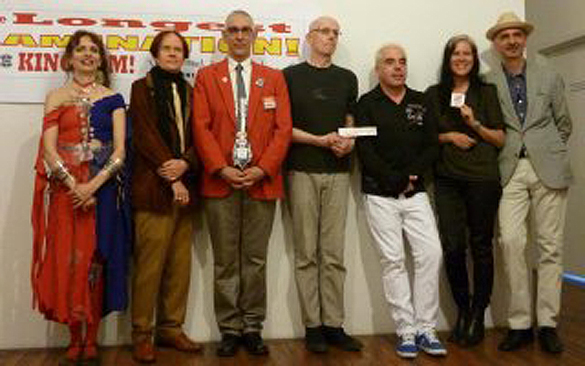 KREV Citizens at ISCP Brooklyn May 12, 2012. We attempted to Laminate Infinity. 5pm with Andrea Beeman, Lary Seven, Ken Montgomery, Leif Elggren, Sam Ashley, Marja-leena Sillanpää and Fabio Roberti, The Kingdoms of Elgaland-Vargaland. More information here.
JG Thirlwell wrote a small piece about saturday's open studio event on his tumblr blog here.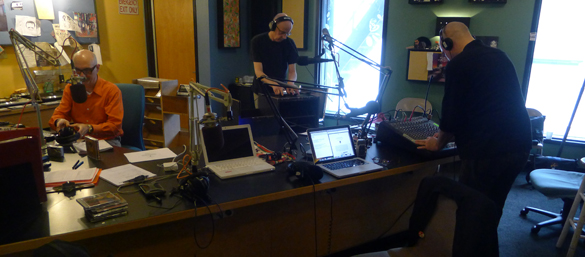 WFMU Playlist for Strength Through Failure with Fabio. Thursdays 3pm – 6pm on WFMU 91.1 fm 90.1 fm wfmu.org May 3, 2012: A Royal FAilure: Special in studio appearance by Leif Elggren & Marja-leena Sillanpää. Super sound assistance by Scott Konzelmann. More information here.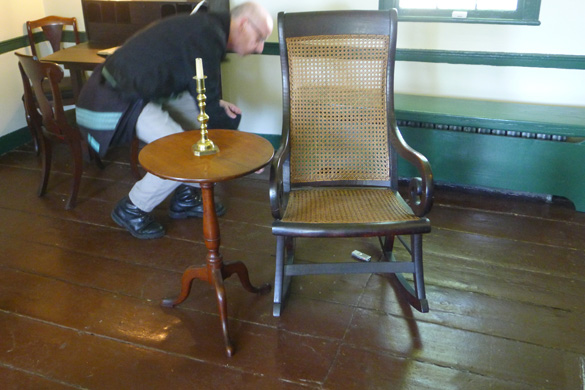 RECORDING EDGAR ALLAN POE'S ROCKING CHAIR. April 29 in the Bronx with Michael Esposito and Frans Eemil Sillanpää.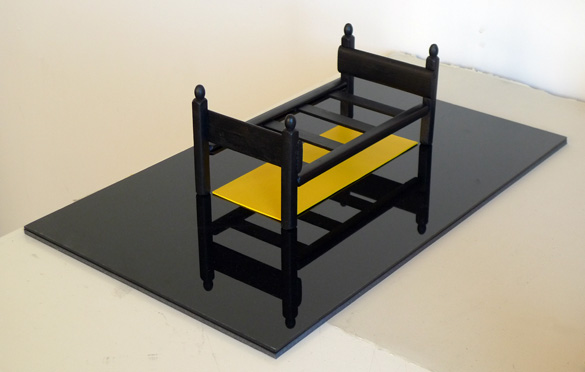 NEW WORK: BED Y&B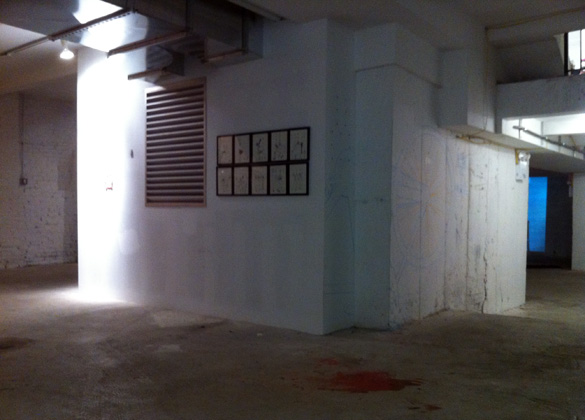 VENTILATION SYSTEM AND TEN DRAWINGS FOR FASHION at VERGE NYC, 159 Bleecker Street, May 3 – May 6, 2012.
PAROLE #2: PHONETIC SKIN / PHONETISCHE HAUT
Annette Stahmer (ed.). Salon Verlag, Cologne (in cooperation with Errant Bodies Press, Berlin/Los Angeles), 2012. 112 pages + CD with sound examples. PAROLE #2 is the second issue of a series of publications investigating the materiality of language. Parole #2: Phonetic Skin / Phonetische Haut is concerned with skin and its relation to language. The term "skin" is used here as a metaphor. It represents the surface, the protective sheath of not only the human but also of other "bodies" like the walls of a house, a product's packaging, the earth's surface, and so on. Skin describes the boundary between within and without, and is simultaneously a sensitive instrument for communication, directing external information inwards, as well as outwardly expressing inner states. "Phonetic Skin" is a poetic term serving as a starting point for a discussion on the connection between communication/language and skin. – 18 international theorists, artists and designers present projects in "Phonetic Skin" which illuminate various aspects of this theme, including voice phenomena, talking drums, dermographism, clothing, as well as works on gardens, graffiti, and book bodies. – See also: Parole #1: The Body of the Voice / Stimmkörper, Salon Verlag Cologne, 2009. Parole is distributed by Vice Versa (Berlin), Les presses du réel (Dijon) and DAP (New York).
PAROLE #2: PHONETIC SKIN / PHONETISCHE HAUT. Buchpräsentation | Performance mit Annette Stahmer und Friedrich Tietjen. Musikalische Begleitung: Die klingende Bildserviette und andere Raritäten. Sonntag, 13. Mai 2012, 11h. SALON FÜR BUCHKUNST. 21er Haus, Arsenalstraße 1, 1030 Wien. More information here. and here.
URSONATEFANZINE Interview with LE by Oier Iruretagoiena. In Spanish. Download the interview here. Check out Ursonate here.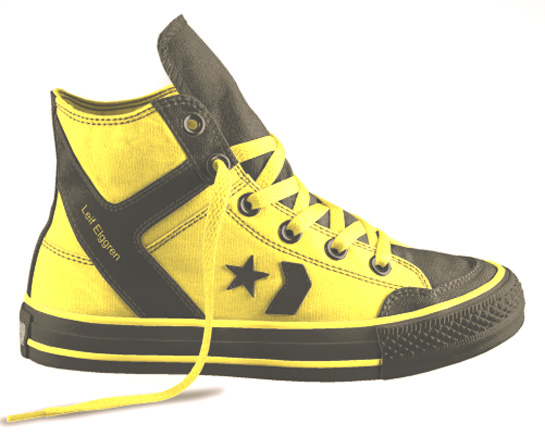 THE POOR MAN'S WEAPON. A new Yellow & Black shoe specially designed by Bryan Lewis Saunders. More about Bryan Lewis Saunders here. Order the shoe here.
IT IS SAID THAT NO QUEEN IS A QUEEN. Choc.236. Volume 1 in 'The Well Spliced Breath' series, presenting some new choice cuts of voice, text/sound composisition, tape collage and the like. 
"It Is Said That No Queen Is A Queen was recorded 19th November 2011 by Alex Inglizian at Lampo, Graham Foundation, Madlener House, 4 West Burton Place, Chicago. The text was written by LE for the Concert For A Lost Queen, a performance / concert together with Charlotte Engelkes at the Swedish Concert House, Stockholm, 17 October 2009." All volumes in the series are a number edition of 60, in generic sleeves with unique insert. More about this here.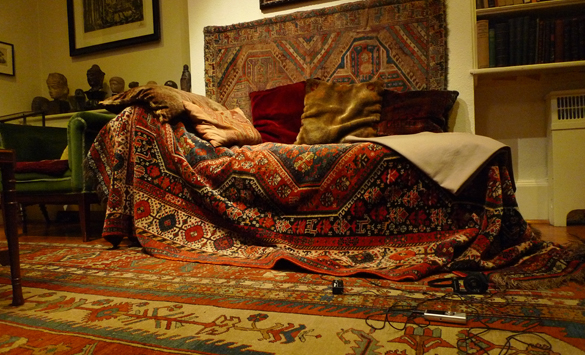 UNDER THE COUCH. A new CD on Firework Edition Records by LE. The booklet contains an essay by Lucia Farinati. – This recording was made under the famous couch of Dr. Sigmund Freud at 20 Maresfield Gardens, Hampstead, London. Sigmund Freud (1856-1939), founder of the Psychoanalysis, lived here 1938- 1939. The house is now the Freud Museum [www.freud.org.uk]. From the museum's website: 'Freud's couch, upon which his patients would comfortably recline during psychoanalytic sessions, was normally covered by an Oriental rug throw. Underneath the throw, it is a plain and simple structure, raised by a scroll and pad at one end, though fully upholstered with springs and horsehair stuffing. The couch is rather short, so that the patient would not lie horizontally, but with the head quite high, supported by several cushions and pillows. According to Freud's wife Martha, in an interview with Princess Marie Bonaparte in 1938, the couch was given to Freud by a grateful patient, a Madame Benvenisti, in about 1890.' – Duration: 60′ 05". Recorded on the 14th of September 2011. Recording devices: ZOOM H4n, Voice Recorder Diasonic DDR-5000, Mini Cassette Recorder Olympus S701. Cover and label photographs by LE taken during the recording session. Many thanks to the Freud Museum for so generously having me under the couch. Special thanks to Lucia Farinati and Dr. Sigmund Freud. FER1100 (P)&(C) Leif Elggren, Stockholm, London, New York 2012. BIEM/N©B LE is published by Touch Music [MCPS] London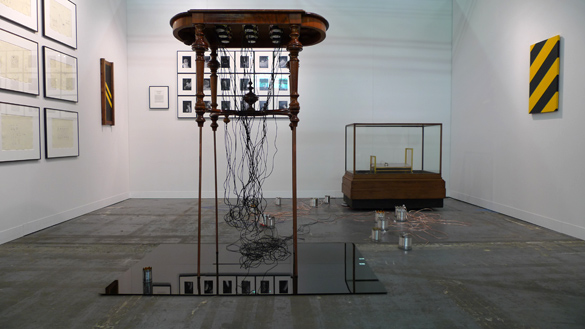 ARMORY SHOW 2012. Gallery Niklas Belenius at booth 910 (Nordic Section). March 8-11, Pier 92 & 94, Twelfth Avenue at 55th Street, New York City. More information here.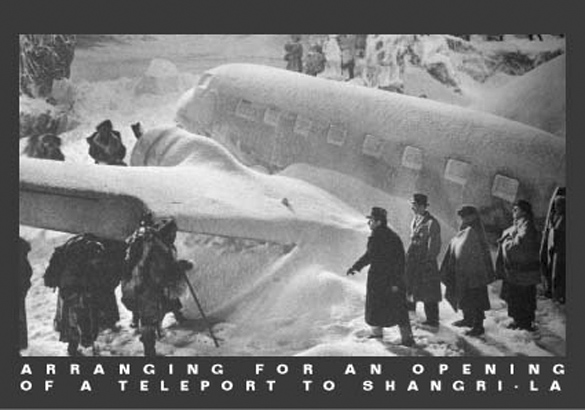 RADIO BOREDCAST. Thu 1 March – Sat 31 March 2012 Radio Boredcast is a 744-hour continuous online radio project, curated by artist Vicki Bennett (People Like Us) with AV Festival. In response to our ambiguous relationship with time – do we have too much or not enough? – Radio Boredcast celebrates the detail, complexity and depth of experience lost through our obsession with speed. With over 100 participants Radio Boredcast includes new and unpublished works, freeform radio shows, field recordings, interviews, monologues and much, much more. Thematic playlists will run throughout from "Acconci" to "Zzz…" You can listen continuously for a month, or for hours, minutes or seconds. Online 24 hours each day, at www.avfestival.co.uk or www.thepixelpalace.org. The schedule for the whole month is listed here.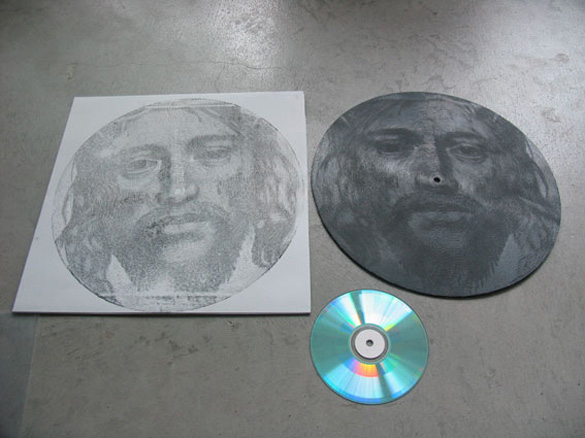 THE SUDARIUM OF ST VERONICA (1649) by Claude Mellan and LE. 12″ poly urethan art record limited edition of 11 pieces, signed and numbered. Release and production by DE PLAYER, Hillelaan 49-d, 3072 JE Rotterdam, The Netherlands. More information here.
SVART LJUS Borås Konstmuseum. 4/2-1/4 2012. Teckningar, fotografier, installationer, ljud och filmer av Freddie Wadling, Annika von Hausswolff, Per Svensson, Ulrich Hillebrand, Lotta Antonsson, Leif Elggren och Henrik Rylander.
TSNOK Physiological Frequencies. Lars-Erik Hjertström-Lappalainen skriver om teckningar av LE. More information here.
ARTISTS IN RESIDENCE Utställning 21 jan – 24 mars 2012. PASSAGEN, LINKÖPINGS KONSTHALL. More information here.
SWEDENBORG EPIC. A Short Reprise for Emanuel Swedenborg, Who Went Insane, But For Very Good Reasons. Exhibition from 05.02.2012 – 05.03.2012. Private view: Saturday 04.02.2012, from 19.00 – 21.00. Swedenborg Epic. is an exhibitionary reprise offering a domestic space to artists to create a work around three accounts upholding the charge of insanity brought against Emanuel Swedenborg (Stockholm 1688 – Wapping, London 1772). These accounts, largely based on linger and hearsay, have been propagated by Swedish pastor Mathesius, Methodist leader Wesley, and questionably by the Moravian Brockmer as based on events taking place during Swedenborg's stay at Brockmer's house in London during 1744. Arguably, the possible fictionalisation and extravagance of these accounts have lead to a certain degree of degeneration in regard of Swedenborg's reputation, both during his late days and posthumously. Taking these peculiar and rather ambiguous accounts as its leitmotiv, the project opens a space for speculation and image-correction of Swedenborg's stature and meaning in the present. The exhibition, curated by Niekolaas Johannes Lekkerkerk, Rianne Groen and Nina Swaep, features works and new commissions by Dave Charlesworth, Kitty Clark, Leif Elggren, Bentley Farrington and Marenka Gabeler. Swedenborg Epic. event on Facebook. 4 Brockmer House, Crowder Street, London E1 0BJ, UK.
BLAST COUNTERBLAST. Published by WhiteWalls. Edited by Anthony Elms and Steve Reinke. With contributions by Stuart Bailey, Andrej Blatnik, Joerg Becker & Irena Knezevic, Elijah Burgher, Cameron Crawford, Jon Davies, Leif Elggren, Mario Fusco, Matthea Harvey & Adam Shecter, Nelson Henricks, Mike Hoolboom, Irena Knezevic, Erin Leland, Jessie Mott, My Barbarian, Christine Negus, Darren O'Donnell, Academy Records, Lane Relyea, John Russell, Jim Trainor, Ryan Trecatin, Emily Vey Duke, and Cooper Battersby. 192 pages | 7 line drawings | 5 1/2 x 8 1/2 | © 2011. More information here.
Advertising: BLACKDEATH NOISE SYNTH
More information here.
January 2 2012, from 8pm, at Experimental Intermedia, 224 Centre Street, NYC: Phill Niblock and Katherine Liberovskaya, Laeticia Morais, Sabisha Friedberg, Byron Westbrook, Bryan Eubanks, Spencer Sweeney, Jeff Burton and Daniel Neumann, Jared Mezzochi, and LE. Photo: Joachim Nordwall.
SOUNDOFMUSIC More information here.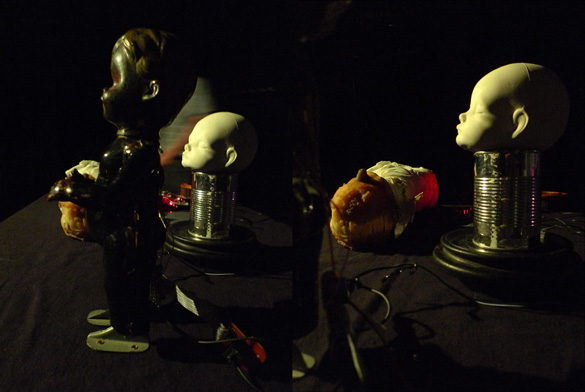 THE DOLLS: Swedenborg, King Carolus XII and Queen Christina as a baby.
Strength Through Failure
On Dec. 15, Strength Through Failure will host the arrival (and 20th anniversary visit to wfmu) of their Royal highnesses King Carl Michael von Hausswolff and Leif Elggren of the Kingdoms of Elgaland/Vargaland. The kings will be on hand to discuss their current activities, their status regarding recognition by the United Nations, recording and art projects, the ongoing function of ruling a benevolent kingdom with territories that extend out into the universe, ongoing collaborations and the like. There may be sound performances beyond the usual chatter. tune in for this royal event. 3-6pm. More information here.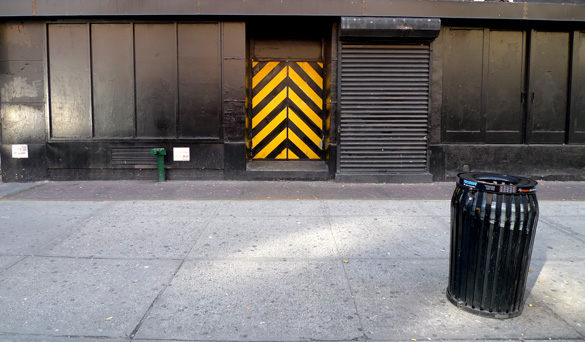 YELLOW & BLACK New York now focusing on Manhattan, Brooklyn & Queens. Opening: December 11, 2011, 8 pm. On the sidewalk in front of 102 W 23rd Street (between 6th and 7th Ave.), New York City (A special thanks to Ken Montgomery.) and simultaneously continuing and spreading out all over the city and beyond. Wherever or whenever you may find Yellow & Black images, signs, symbols, etc., they are part of this project. This is possibly the largest public art work project ever done on this planet. The project was initiated in 1977 and has since then manifested all over the world in many different forms and shapes — mostly in our shared man-made society, (but not always, no, not always).
§3 CLAIM: "I hereby lay claim to this symbol, sign, icon — the combination of black and yellow — wherever it may appear in this or any other world, in whatever shape, form, pattern or composition, be it civil or military. I hereby claim to be its originator and owner." (Leif Elggren, Stockholm 1977) – This project have found its way in different shapes and situations through the years. A statement of legitimity is put out, a statement of the self placed in the hierarchic order of the world. – Am I the created creation that in turn create new creations or am I the created creation that create my own creator?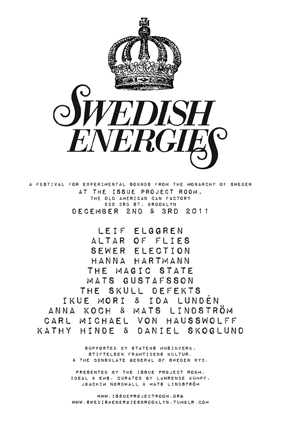 SWEDISH ENERGIES Presenting LEIF ELGGREN, ANNA KOCH & MATS LINDSTRÖM, ALTAR OF FLIES, CARL MICHAEL VON HAUSSWOLFF, HANNA HARTMANN, IKUE MORI & IDA LUNDÉN, KATHY HINDE & DANIEL SKOGLUND, THE MAGIC STATE, MATS GUSTAFSSON, SEWER ELECTION, THE SKULL DEFEKTS. Issue Project Room, Brooklyn, December 2nd and 3rd 2011. Presented by the Issue Project Room, iDEAL, EMS, WELD & the Consulate General of Sweden, NYC. Curated by Joachim Nordwall, Mats Lindström & Lawrence Kumpf. More information here.