LAMPO: LEIF ELGGREN, SAT NOV 19 at 8pm, Graham Foundation, Madlener House, 4 West Burton Place, Chicago. Admission FREE. Reservations required; RSVP: http://elggrenlampo.eventbrite.com – A special thanks to: Arvo Zylo, Jason Soliday, Heidi Harman, Michael Esposito, Marja-leena Sillanpää. More information here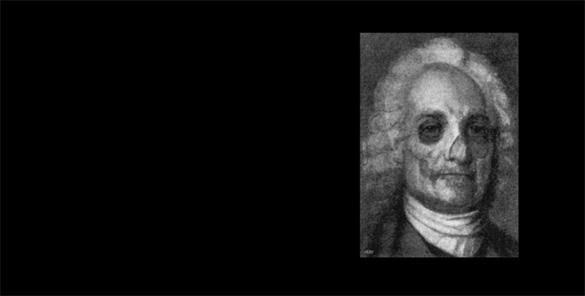 PTROLEUM FIRST RELEASE: CD ANGEL MODULATIONS BY EMANUEL SWEDENBORG. On November 3rd 2011 between 7-9 pm, You are very welcome to an opening reception hosted by Leif Elggren and the release of the CD ANGEL MODULATIONS in connection with OPEN STUDIOS at ISCP – International Studio & Curatorial Program, 1040 Metropolitan Avenue, Brooklyn, New York 11211. This reception will then go on for 3 more days when you have the opportunity to meet 35 artists from all over the world. OPENING HOURS: Fri-Sun, Nov 4-6th, 1-7pm. More information here.
OPEN STUDIOS at ISCP – International Studio & Curatorial Program, 1040 Metropolitan Avenue, Brooklyn, New York 11211. OPENING RECEPTION Thursday, November 3rd, 7 – 9pm. OPENING HOURS Friday – Sunday, November 4 – 6th, 1 – 7pm. The International Studio & Curatorial Program (ISCP) Fall Open Studios is a four-day exhibition of international contemporary art. The 36 artists, artist collectives and curators from 22 countries currently in residence at ISCP will present work in their studios. More information here.
Sunday October 30 – Mischief Nite 8pm – Gen Ken live with VERY SPECIAL guests.
Gen Ken will be re-interpreting DRONESKIPCLICKLOOP from Ponderfloorsample using real musicians! The Stone-corner of Ave C and 2nd Street East Village. Curated by Phill Niblock XI records. Gen Ken Montgomery conducts the Droneskipclickloop quartet featuring: Sean Meehan, Michael Evans, Lary Seven, Leif Elggren and Andrea, the Enchantress of Bioluminsoity. More information here.
The Sudarium of St. Veronica / put the music in its coffin
Writing Sound by Daniela Cascella. More information here.
521 HUDSON MEETING Oct 8th. 11. Front: Maja, Lary. Back: Fabio, Leif, Scott, Ken, Andrea.
ANGEL MODULATIONS
CD by Emanuel Swedenborg on Ptroleum. More information here.
HAUNTINGS
Secret and Uncanny Presence in Media, Art and Pop. – For as long media have been in existence, people have believed that these media maintain a special connection to the beyond. Writing, photography, the sound recording, the filmic image – each one is the placeholder for an absent presence, for a past- or future elsewhere whose after-effects linger in the here and now. Under the current conditions of open and electronically available archives, these symptoms are growing more radical: there is virtually no mediatic artefact in existence today that is not haunted by – or, even, that does not explicitly invoke – a "spectre" or "ghost" from the past. "Hauntings" is an interdisciplinary project by Thomas Edlinger and Christian Höller. Hauntings – Ghost Box Media. Exhibition 25.9. – 17.12.2011. Kunstverein Medienturm, Josefigasse 1, 8020 Graz. Opening 24.9., 11 a.m. Coproduction steirischer herbst. The open, electronic archives of our time radicalise this suspicion even further, as there is hardly a media artifact left that isn't haunted by a ghost of the past. What are the characteristics of this secret presence or uncanny absence in contemporary art? How is the facticity of the simulacrum, the "presence of a ghost" (Jacques Derrida) manifested? What undead beings haunt an art whose main characteristic is its claim to contemporaneity? What "sinister resonances" (David Toop) are currently at work here? Based on a small cross-section of a wide range of media, visitors can experience all the things that continue to pursue and haunt us in today's art forms. With Yto Barrada, BIT Bureau of Inverse Technology, Minerva Cuevas, Leif Elggren, Michael Esposito/Carl Michael Von Hausswolff, Harappian Night Recordings, Julian House, Mike Kelley/Scanner, Jakob Kolding, Claudia Larcher, Moon Wiring Club, Baron Mordant, The Otolith Group, Walid Raad, Dr. Konstantin Raudive, Markus Schinwald, Zineb Sedira, Alejandro Vidal, Apichatpong Weerasethakul, Hans Weigand. More information here.
17.09. – 18.11.2011 SLEEP DISORDERS
Curateurs: Marion Auburtin – Danielle Igniti – Benjamin L.Aman. Artistes: Marion Auburtin – Leonora Bisagno – Sneja D. – Claire Decet – Leif Elggren – Elisabeth Flunger – Samuel François – Gran Horno – Benjamin L.Aman – Sébastien Maloberti – Christoph Meier – Claudia Passeri – The Sons of God – Brigitte Zieger. Sleep Disorders présente des oeuvres qui cherchent à mettre en forme ce qui reste d'habitude à l'état latent. Il peut s'agir d'une approche littérale visant à dégager la part créatrice ou perturbatrice des troubles du repos sur le fonctionnement de l'esprit, lorsqu'il formule plus ou moins consciemment des idées ou des images. Il peut également s'agir de travaux non linéaires voire clairement contradictoires qui mènent l'artiste et le spectateur vers une forme d'impasse. Sleep Disorders aborde enfin des oeuvres dont le calme apparent dévoile un fond d' insécurité, une obsession flagrante, une forme de violence pure ou de défoulement en quête du repos salvateur. La Ville de Dudelange et les centres d'art Dominique Lang et Nei Liicht ont le plaisir de vous inviter au vernissage – cocktail de l'exposition qui aura lieu le samedi 17 septembre à partir de 21 heures dans les deux centres en présence des artistes. Performances de Leif Elggren et Benjamin L.Aman à partir de 21.30 heures. Finissage le 17 novembre à partir de 21 heures. Performances de Gran Horno et Elisabeth Flunger à partir de 21.30 heures. More information here.
Lördag den 10 september kl 15-18 har Leif Elggren vernissage på Galleri Örhänget. Utställningen heter GURUNS PAPPER OCH ANDRA TIDIGA SAMMANHANG och innehåller en mängd teckningar från tidigt 1970-tal: bilder från den legendariska alternativtidskriften Guru Papers, illustrationer till böcker, med mera. Adress Höga Stigen 3, vid Mosebacke terrass, Stockholm, tid alltså kl 15-18. Utställningen pågår fram till de 20 oktober. – Kvällen före, fredagen den 9 september, blir det Guru Papers-kväll från kl 19 i Antikvariat Hundörats nya lokaler på Östgötagatan 20. Leif Elggren och gurun själv, tidskriftens redaktör Lauri Perälä, samtalar under Jonas Ellerströms ledning om stencilapparaten som upprorsverktyg, om poesin på 1970-talet och Linköpings position i svensk litteraturhistoria. Böcker och tidskriftsnummer till försäljning, improviserad musik av Slug Area (Elggren, Ellerström, David Liljemark), vin och nötter, och andra uppträden.
THE BATTLE BETWEEN THE EARS
2011-09-03. Audiovisual adventure by Mats Persson, Leif Elggren and Björn Granath at 9 to 9.30 PM in Lejonkulan, Dramaten, Stockholm. Åke Hodell will be visiting Carl Jonas Love Almqvist and Emanuel Swedenborg. And Queen Christina, as the godmother to Carolus XII, will be seen being born again as like a miracle. Again and again. Or is it the other way around??? A masquerade were different time levels overlap each other.
FRIDAY Sept 2, 2011 18.00 WE ARE ON THE OTHER SIDE. Sound installation by Marja-leena Sillanpää. HEAVEN / HELL. Release and live performance by Anastasia Ax / Sillanpää. 19.30 JEAN-PHILIPPE ANTOINE / LEIF ELGGREN. Jean- Philippe presents hums and whistles and live electronics. Jean-Philippe Antoine lives and works in Paris. He has recently released a 7 inch and a CD on Firework Edition Records and have been artist in residence at EMS during August 2011. Leif Elggren presents his new talking dolls.
www.myspace.com/fredons
www.dailymotion.com/video/xb4y0z_conferenceperformance-jeanphilippe
www.fireworkeditionrecords.com Fylkingen, Söder Mälarstrand 27, 118 25 Stockholm
www.fylkingen.se
KAMBRISKA ÅTBÖRDER
ONS 31/8 KL 19.00. Fylkingen. En maxad kväll med musik, text, performance och video av: DR. MEXICO, MATTIAS FORSHAGE, ILONA HUSS WALIN, C.M. LUNDBERG & EN 1/2-KOKT I FOLIE, GIULIANO MEDICI, IWO MYRIN, ÅSA NYLÈN, KAARINA ORMIO/ELIN T. SØRENSEN/JAAN PÄRNAMÄE, LEIF ELGGREN, EMANUEL SWEDENBORG & DANIEL SOFTSWORD LOFTHAGEN. Utställning i foajén med: Mia Andrée, Leif Elggren, Ilona Huss Walin, Iris Causevic, Björn Serrander, Petri Junttila, Anna Karlkvist, C.M. Lundberg, RTBoruta, Giuliano Medici, Iwo Myrin.
BLACK FAT SOIL
Tuesday 30.8, 2011. 19:00—24:00. Fylkingen. Söder Mälarstrand 27. Stockholm www.fylkingen.se An evening with performance, music, sound- and videoart.
Participating artists: Dave Allen, Answers (Henrik Andersson / Malin Arnell / Anders Bryngelsson / Mattin), Jakob Eklund, Cecilia Germain, Ulrika Gomm, Peter Kortmann, Lina Persson, Roseline Rannoch, Imri Sandström, Maxwell Simmer, Marcus Ekroth / Trevor Lee Larson / Linda Spjut. The evening starts 19.00 with a book launch of the anthology SVART FET JORD / BLACK FAT SOIL with contributions from: Dave Allen, Answers, Michael Baers, Jakob Eklund, Marcus Ekroth, Leif Elggren, Emma-Lina Ericson, Cecilia Germain, Ulrika Gomm, Delia Gonzalez, Johanna Gustafsson Fürst, Lise Haurum, Peter Kortmann, Erika Landström, Trevor Lee Larson, Clara López, C M Lundberg, Anna Lundh, Iwo Myrin, Per Kristian Nygaard, Lina Persson, Julia Pfeiffer, Roseline Rannoch, Imri Sandström, Maxwell Simmer, Linda Spjut, Paula Urbano, Anna Wignell. Graphic design: Florian Ludwig. Entrance: SEK50 (including the anthology BLACK FAT SOIL). BLACK FAT SOIL is supported by IASPIS.
Silent Screams And Deafening Whispers a performance evening curated by Erik Bünger, takes place at Monbijoupark in Berlin as part of the exhibition Based in Berlin. More information Erik Bünger here and here.
Det främmande fäderneslandet Andra sommaren. Borlänge 28-30 juni 2011. More information Joakim Forsgren here.
THE IDIOT. The following text and images were rejected by The Wire after inviting LE to contribute to The Inner Sleeve in March 2010:
A trickster, a dancing young prince, that super-energetically moves between the lines, between the words, without being hurt, that moves freely. And even if this is true, the problematic issue in this case, there is an old incomprehensible future that obviously awaits in the background. Like that heavy old painting by Richard Bergh of the mad poet Gustaf Fröding sitting in his bed with his arms crossed under his patriarch beard – like a Shakespearian ghost experience. And another one; the mad painter Ernst Josephson leading the military parade to the royal castle dressed in a morning gown and a red fez. (Unfortunately he never made it to the castle. They arrested him before that.) With a catwalk fashion attitude and a free-at-last elegance (outside the asylum); ready to go. Major stimuli. Like the hands that are dancing by themselves, but at the same time together, strongly connected, as always. And the party is somewhere else, but the focus is still here. On the beach. Like it should be. The subjective and inevitable conviction that this is the centre of the world, the centre of everything. And the black and white garden outside the villa where all the others are living their lives, are having their fun. But you and me here, in the dark. Like the most important dialogue of all dialogues. Like talking to the most powerful woman in the world and at the same time trying to pee without unbuttoning the fly. Like those scars that never go away. And the open sea, the ocean, in the background. Still possible. But the lack of real worldly power (from an inferior position) creates an inner freedom where everything is accessible, within reach, all the time, twenty four hours a-day. Never closed. Like a dream in a dream. Like kids with total connection. Like Friedrich Jürgenson recording without a microphone. With open focus. That this is what we can do. Inverting the structure, the inferior position, and claim (pointing) in the opposite direction – "There goes the freedom line!" But no one goes free, it is said. Nevertheless, everyone keeps themselves going with the hope, the hope to be exceptional. Like the rich and the powerful, the only ones in human society that have the possibility to achieve immortality. No others, of course. The rest will be sedimented down in the shadows, like dust. Soil. Like it is. But still, the inevitable longing for more, to remain. Because everything is so fearful. Like in the darkest night. Like when the forest starts moving. Do plants feel fear? – All animals are saints. And those goddamn saint-eaters ready to get their teeth into skin and bones. Like old mummies incarnated backwards in newborn babies. Like when Amenhotep the fourth gave birth to his own father, to his own mother and consumed them and digested them easily. Like a first glimpse of a new era, another way of organising society, the world. And then everything went black again. Went back to the old routines, to the old traditions in order to feel safe, or safer. Because everything is totally a question of fear, a question of horror. But underneath, the bridging from one point to another, invisible during a long period of time, during generations, and then suddenly up in the daylight again: Materialising. Being visible. Influencing. Like it should. Like the subjective, but inevitable, belief that this is the centre of the world, that this is the centre of everything. And we have to deal with it – like being born by two idiots, but still enjoying the title of a King and as well being a son of God – like myself for instance. (Leif Elggren, Stockholm, March 2010)
Images: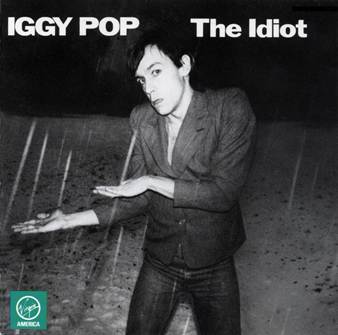 Iggy Pop: The Idiot. First released 1977. Cover photo by Andrew Kent.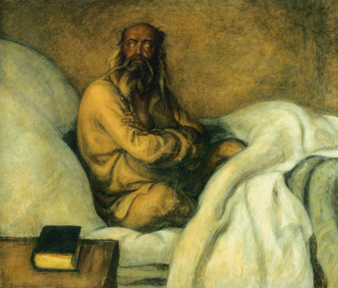 Gustaf Fröding. Painting by Richard Bergh 1909.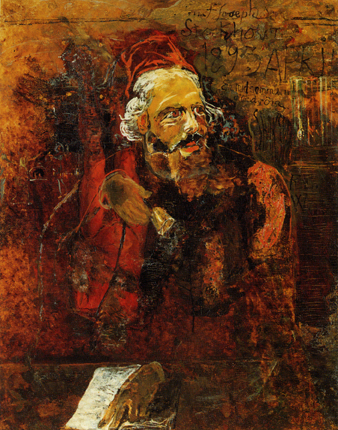 Painting by Ernst Josephson 1893.
Sohrab remix album | You Are Not Alone l
Leif has contributed a remix to Iranian artist Sohrab's new release. Release date: 10th June 2011. 320 kpbs – 1 track – 37:09. [Touch # Tone 42 DR1]
Photography: Jon Wozencroft. The first in a series of reworkings of Sohrab material by artists showing solidarity to his cause… all label and artist money goes towards the fund for his appeal against the refusal to be granted political asylum in Germany…
As you may know, Sohrab managed to leave Iran late last year for Germany, where he appealed for political asylum having been interned in Brandenburg. This appeal has failed and he is trying to raise funds to appeal against this latest ruling. If he fails, it is probable that Sohrab will be flown back to Iran and arrested at Tehran Airport… Europe is reassessing its policy to 'immigrants' on a daily basis, partly because of the rise of the political right, but also because of the influx of refugees from the 'arab spring'. The vast majority are being unceremoniously shipped back to their point of origin… This release is a fund-raiser to help pay for a lawyer to help with his appeal against the ruling. 100% of Artist and Label money from this release will be donated directly to the appeal fund. You can donate more if you wish simply by purchasing multiple copies of this release. Touch mix content providers: JG Thirlwell – Susanna (Uxorial mix) 4:48 | Achim Mohné – Milan Knizhak mix#1 (side a) 6:05 | Jóhann Jóhannsson – Zarrin (remix) 6:01 (Mixed by Jóhann Jóhannsson at NTOV, Copenhagen, 24th May 2011) | Anonymous – Triple Exposure 9:10 (Mastered by a different Anonymous 24th May 2011) | Leif Elggren – No One Really Knows (destroyed) 11:46
This download-only release is now available from the TouchShop.