SLICE
More about this here
The 6th MOMENTUM BIENNIAL
Imagine Being Here Now, Momentum / Punkt Ø. Opening Party Saturday June 18th, 8 pm, at Momentum kunsthall, Moss, Norway. Open: 18 June – 2 October 2011. The 6th Momentum Biennial, Imagine Being Here Now, is rooted in a conviction that the complexities of orientating the world depend on factors of memory and imagination and that the process, whatever it may be, inescapably transpires within a set moment and location. Indeed, we usually emphasize the latter when considering human experience, but for each individual time and space expands in unforeseen dimensions, back and forth, up and down. The inherent present of each person does not only involve transitory impressions of the here and now but continuously deals with the past and expectations of the future. Besides existing in time and space, we have the ability to imagine being somewhere else entirely, in any other place at any other time. Imagine Being Here Now presents works of art by fifty international artists in an exhibition venturing to stretch out, pin down and animate the experience of time in standstill, motion and reverse, and that of place through presence and absence. Within a specific exhibition design that engages the viewer in a distinctly alternative manner of participation and presence, the multitude of perspectives that relate to this attempt are presented in the works of art on display. Consequently, the exhibition retains a multifaceted approach both within the venues in Moss, but also in other Nordic countries through an organized itinerant performance event and, furthermore, in a two-part publication meant to thoroughly consider the matter at hand. – To parse the continual deliberation regarding the experience of presence, what time is and the widely diverse analogies describing it is, of course, truly an endeavor. But it is the sincere aspiration of the curatorial group and the participating artists that the exhibition explores the human experience and its spatial conditions and that it discusses contextual time where imagination is a key feature in producing, sharing and experiencing. Artists: Øystein Aasan (NO), Caroline Achaintre (FR), Harpa Árnadóttir (IS), Michael Baers (US), Margrét H. Blőndal (IS), Paolo Bottarelli (IT), KP Brehmer (DE), Elina Brotherus (FI), Heman Chong (SG), Bruce Conner (US), Jason Dodge (US), Aleksandra Domanović (RS), Leif Elggren (SE), Luca Frei (SE), Ellie Ga (US), Ásdís Sif Gunnarsdóttir (IS), Hamza Halloubi (MA), Magnús Logi Kristinsson (IS), Matti Kujasalo (FI), Oliver Laric (AU), Karl Larsson (SE), Ann Lislegaard (NO), The Long Now Foundation (US), Lorenzo Scotto di Luzio (IT), Katarina Lőfstrőm (SE), Daniel Medina (VE), Maria Miesenberger (SE), Naeem Mohaiemen (BD), Ulrike Mohr (DE), Eadweard Muybridge (UK), Simon Dybbroe Møller (DK), Rosalind, Nashashibi (UK), Ioana Nemes (RO), Finnbogi Pétursson (IS), Prinz Gholam (DE/LB), Raqs Media Collective (IN), Mandla Reuter (ZA), Nikolai von Rosen (DE), Hans Rosenstrőm (FI), Andreas Siqueland (NO), SEX TAGS (NO), Simon Starling (UK), Fiete Stolte (DE), Superflex in collaboration with The Propeller Group (DK/VN), Ines Tartler (DE), Roi Vaara (FI), Kjell Varvin (NO), Bettina Camilla Vestergaard (DK), Wooloo (DK), George Young (UK). Curated by:
 Markús Þór Andrésson (IS), Christian Skovbjerg Jensen (DK), Theodor Ringborg (SE), Aura Seikkula (FI), Marianne Zamecznik (NO). More about this here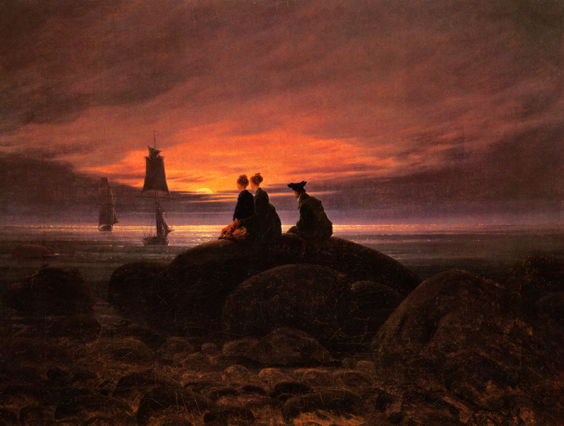 THE NORTH IS PROTECTED (Death in Venice)
(Sitting in the shallow water at the Lido seashore with Fukushima in the background.)
From noon to sundown, we are contemplating the horizon, observing the sky. Overviewing heaven and earth. Is there any hope? Are there any possibilities for human life to survive on this planet? – You are most welcome to join us in this melancholic moment to meditate over beauty, death, time, fear and sadness in our mutual existence of today. 1 June, 2011 from 11.00 onwards. The private beach in front of Grand Hotel des Bains, Lido, Venice, Italy. Carl Michael von Hausswolff Anders Tomren Tommi Grönlund Petteri Nisunen Leif Elggren. Image: Moonrise by the Sea, Caspar David Friedrich, 1822. More about this here
THE FENRIS WOLF, THOMAS BEY WILLIAM BAILEY
I Wasn't There: The Joys Of Immaterial Art
More about this here and here
»FREITAG DER 13« ANNA BAK [PL] | ANSGAR WILKEN [DE] | CLAUDIO PFEIFFER [DE] DENNIS TYFUS [BE] | FEINE TRINKERS BEI PINKELS DAHEIM [DE] FREYA NAJADE [UK] | HANS-GEORG SCHÄFER [DE] | JAD FAIR [US] LEIF ELGGREN [SE] | STEFFEN ULLMANN [DE] | THE TAPEWORM [UK] ULRICH CHOMEN [DE] | ZELOOT [NL] ausstellung | 13.05. – 05.06.2011 FLIESENECK | spedition | bremen | deutschland öffnungszeiten di – fr | 14.00 – 18.00 sa + so | 14.00 – 19.00
More about this here
2011 MERZ WORLD: YONA FRIEDMAN & TOMAS SARACENO
14.4.–21.8.2011. Exhibition at Cabaret Voltaire, Zürich. More about this here
NORDIC DARKNESS Kristinehamn Museum of Art, Sweden. info
Ash 8.3 #4 presented to LE: See you later
XISM 16 april – 21 aug, 2011.
More about this here
DEATH FRAGMENTS by Tetsuo Furudate, Bielefeld, Germany 16-21 April 2011 info
INNER VOICES exhibition together with Per Svensson, Kristianstads Konsthall, Sweden 9 April-6 June 2011. Inner Voices featuring Michael Esposito and Freddie Wadling.
Activating The Medium XIV : Radio
23five has collected works from numerous sound artists who have used radio as a principle medium in composition for the purpose of being broadcast over the radiowaves. Most tracks commissioned for this series are exclusive to the radio series.
Participants include: Antimatter, Jorge Bachmann, Leticia Castaneda, Tim Catlin, John Davis, John Duncan, Adrian Dziewanski, Leif Elggren, Richard Garet, Camilla Hannan, Jim Haynes, irr. app. (ext.), Jason Kahn, Jim Kaiser, Ben Owen, Adam Pacione, Dave Phillips, RAJAR, Rale, Lisa Seitz, Colin Andrew Sheffield, Adam Sonderberg, Giancarlo Toniutti, Vertonen, Keith Fullerton Whitman, Yan Jun. °°°° 23five Incorporated, The Helen Scarsdale Agency, San Francisco, California USA. info
The Winter Garden 19th March 2011, Osward Road, London.
LE will cut black & yellow tape at 6 30pm prompt to officially launch The Winter Garden Installation & Sound Space, with a permanent exhibition, "Yellow & Black, 11th December 2007."
iDEALFEST 2011
February 26th 2011, 19.00-01.00, Fylkingen, Stockholm. Live on stage: DEAD LETTERS SPELL OUT DEAD WORDS, LEIF ELGGREN & JOACHIM NORDWALL, JOHANNES HELDÉN, EVIL MOISTURE (F), SEWER ELECTION, DUNGEON ACID, ALTAR OF FLIES, 100 sek | Cheapo bar. Seven performances of radical, mindexpanding electronic music of different kinds. iDEAL Recordings have since 1998 released experimental stuff on vinyl, compact disc and cassette – mostly noise, drone, electro-acoustics and so forth but often with a punk attitude and kind of a in-your-face energy surrounding the whole thing. iDEAL is also a festival organizer, is involved in curating sound art exhibitions, setting up concerts and whatever. Tonight at Fylkingen, iDEAL is presenting a bunch of their collaborators… Please note – ALL visitors get a free iDEAL CD release of their own choise! A special Cassette release will be available with all performing artists. Ringmaster: Optic Nest. More about this here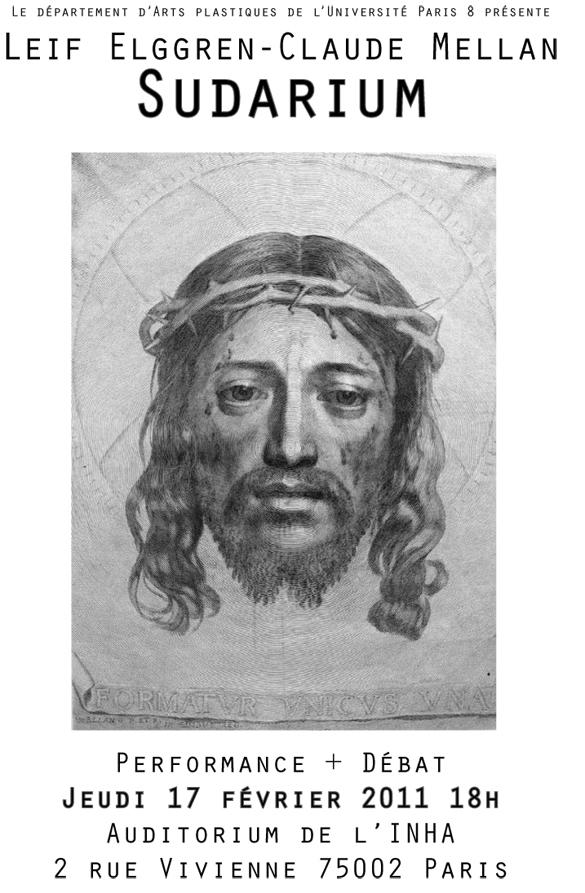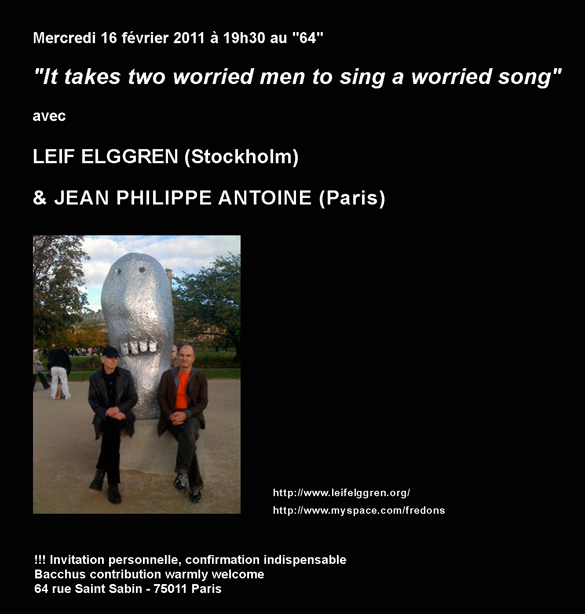 LIVE IN PARIS
Concert at 64, Paris, February 16, 2011. – Photo: Catherine de Smet.
More about this here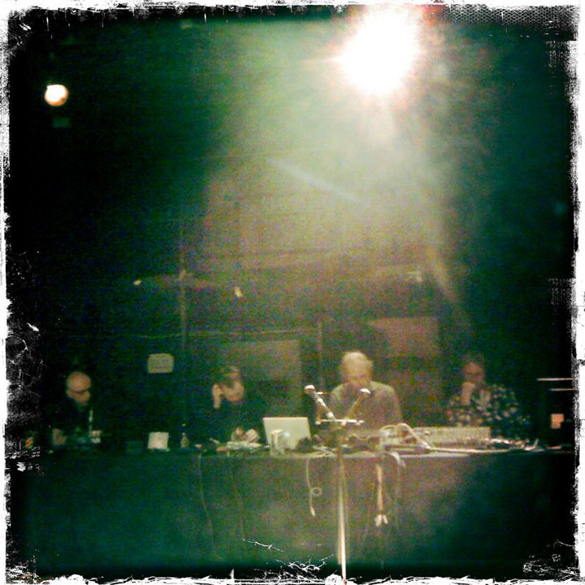 LIVE IN STOCKHOLM
Concert at Fylkingen, Stockholm, December 17, 2010 – 19:00 – 23:00 by Per Svensson, Carl Michael von Hausswolff, Kent Tankred, Leif Elggren and release of a new book: Transmutation by Bo Cavefors / Per Svensson on Firework Edition. Photo: Daniel Karlsson. More about this here
UNOFFICIAL NOBEL PEACE PRIZE
December 10th, 2010. More about this here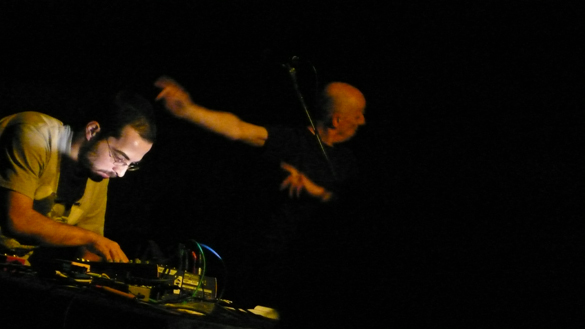 BYE BYE BUTTERFLY December 4th, xanthi, greece:: absurd #84:
with Joke Lanz (Sudden Infant), Balinese Beast, Socrates Martinis, Kostis Kilymis, DJ Bwana, Thanasis Chondros, Alexandra Katsiani and LE. More about this here Photo: Nicolas Malevitsis.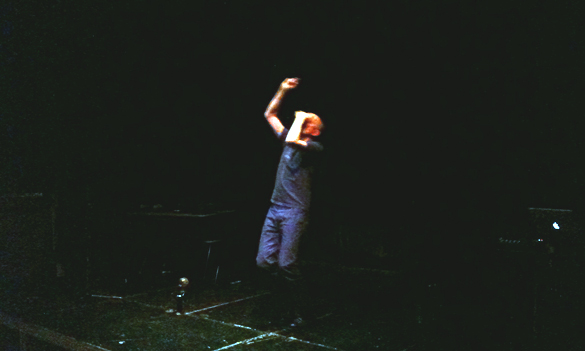 THE TAPEWORM COMES ALIVE!
Le Guess Who? and PAUME present a night curated by cassette label THE TAPEWORM featuring Leslie Winer, Leif Elggren, Zerocrop, Ananizapta, Savage Pencil, People Like Us and Philip Marshall. Theater Kiker, Utrecht, Holland, November 28, 2010. More about this here and here Photo: Mike Harding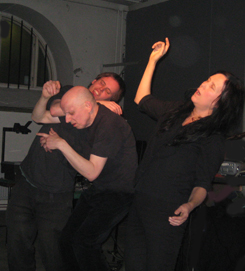 THE THIRD POWER November 18, 2010, Passagen Linköpings Konsthall, Sweden. Performance by Marja-leena Sillanpää, Pär Thörn, LE. More about this here Photo: Anna Sandberg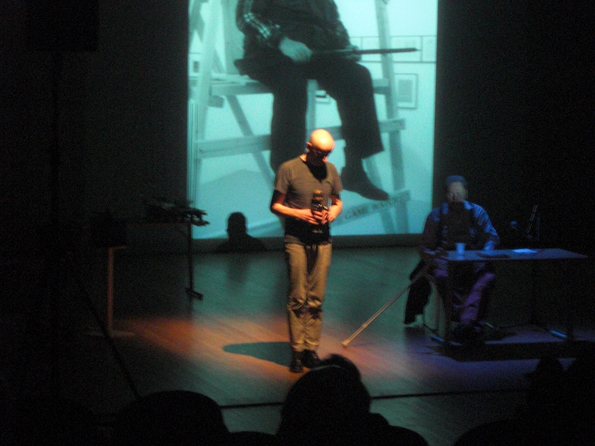 THE STEN HANSON FESTIVAL October 9, 2010, Moderna Museet, Stockholm, Sweden. Performance by Sten Hanson and the following artists invited by Sten Hanson: Julien Blaine, Erik Bünger, Christina Kubisch, Blood Stereo, Hanna Hartmann, Leif Elggren. More about this here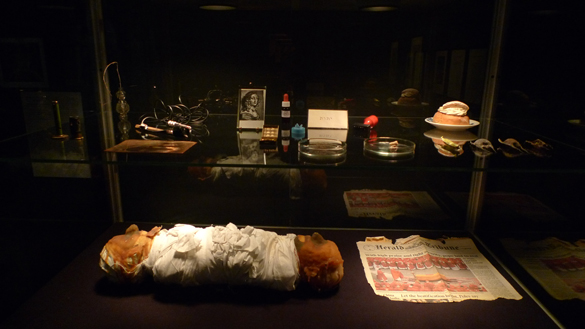 THE MODERNA EXHIBITION 2010 Moderna Museet, Stockholm, 2 October 2010 – 9 January 2011. LE showing two different sound projects together with related material and paraphernalia (and a specially made vitrine with extraterestial signs of dignity): The Summerhouse (CD release together with Michael Esposito and Emanuel Swedenborg), The Sudarium of St Veronica (CD release together with Claude Mellan). For more information see www.fireworkeditionrecords.com
More about The Moderna Exhibition 2010 here
SPRINGERIN Springerin -Hefte für Gegenwartskunst. springerin ist das Magazin zur Kritik und Theorie der Kultur der Gegenwart. Springerin 4/2010. Politisches Design. Christian Höller: Die Rückseite der Medien. Zum Dispositiv des Unhörbaren und Unsichtbaren am Beispiel des Künstlers Leif Elggren. More about this here and here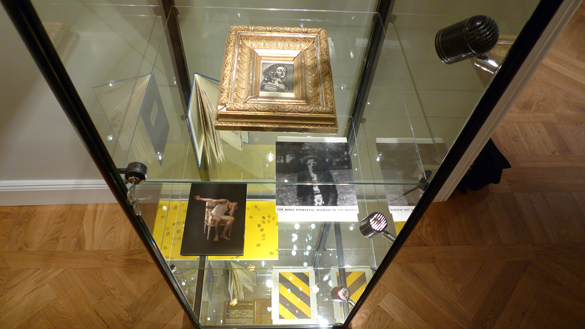 Skajs Antikhandel / Niklas Belenius
Stockholm, "Installation I", Antiques – Contemporary Art, 29 September – 6 October 2010. http://www.skajsantikhandel.com/1.html
Interview with LE by Markus Metsälä.
originally appeared in Special Interests #3
Interview
Special Interests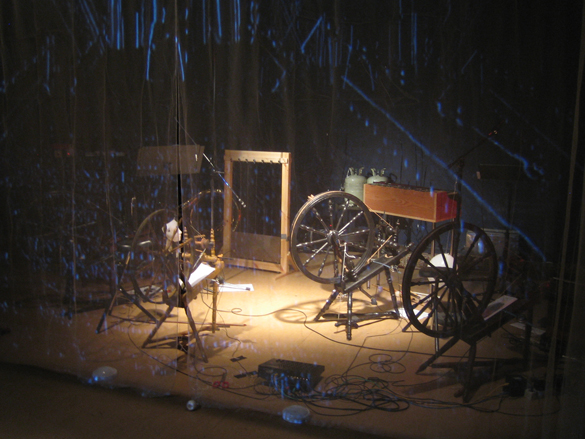 ETHER VOYAGE #2 Concert / performance by LE and Charlotte Engelkes together with Kent Tankred, Johan E Andersson, The Sons of God and Inga Känd, September 20, 2010, Fylkingen, Stockholm, Sweden. "Engelkes and Elggren pick up the thread from Concert for a Lost Queen at the Stockholm Concert Hall, October 2009. In this Hybrid-concert you will meet The (refound) Queen, The Spinning Wheel Orchestra and witness a new flying attempt with The Sons of God's magic carpet." More about this here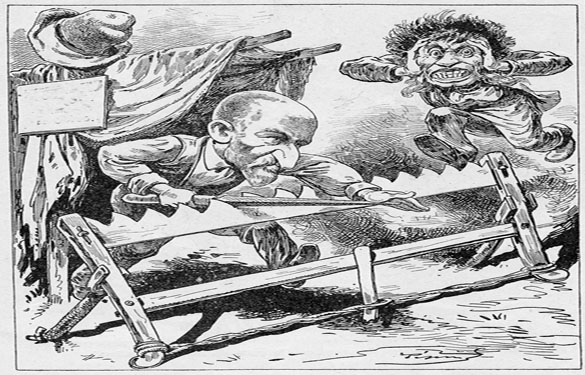 THE FIREWORK APPENDIX Appendix is necessary; fantastic; fearless; sovereign; intelligent; non-commercial; commercial; dreamlike; political; headless – and therefore absolutely free of charge. Appendix is a crying voice in the desert, anonymous and unknown, innocent and lost, confused and gone with a wind, like dust, like small bushes, like an open car alone in the rain, like smoke, like a burning house, like a burning head, like you, like me, like everything that calculate similarity, loyalty, that calculate fear and what comes with that; people and beasts and all that crawls and run around in the night … More about this here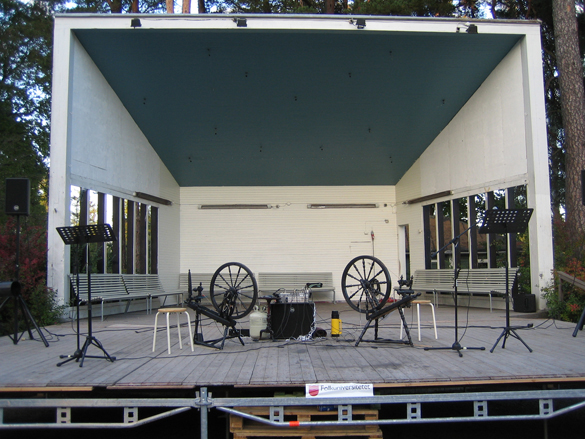 ETHER VOYAGE #1
Concert / performance by LE and Charlotte Engelkes, September 9, 2010, Gaffel Art Park Event, Gävle, Sweden. More about this here
SWEDISH CONCEPTUAL ART
September 4 – November 14, 2010, Kalmar Konstmuseum, Kalmar, Sweden.
More about this here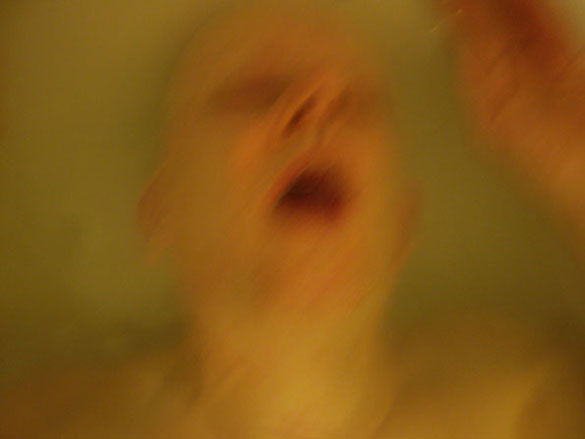 NO QUEEN IS A QUEEN (For Queen Elizabeth)
Episode 12. More about this here Photo: Marja-leena Sillanpää.
RÉPONDEUR, PALAIS DE TOKYO, PARIS
Répondeur. Leif Elggren, Smell (part 2). 01 août 2010 – 31 août 2010. Ce programme est réalisé avec la complicité de Rahma Khazam, journaliste et critique. More about this here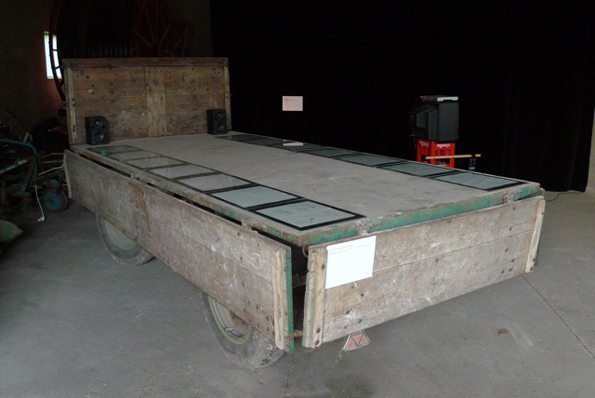 Photo: noid
///// KONFRONTATIONEN NICKELSDORF 2010, AUSTRIA, 15-18th JULY Curated by Mats Gustafsson & Hans Falb. Soundart-Exhibition (as of June 28): Marja-leena Sillanpää, Leif Elggren, Billy Roisz/dieb13, Kathrin Stumreich, Daniel Gyolcs, Heike Kaltenbrunner/Florian Waldner/Susanna Gartmayer, Klaus Filip/noid
Nickelsdorf
BANANAFISH #16 "I Pity Inanimate Objects" interview with LE by M.Monroe.
Interview
Tedium House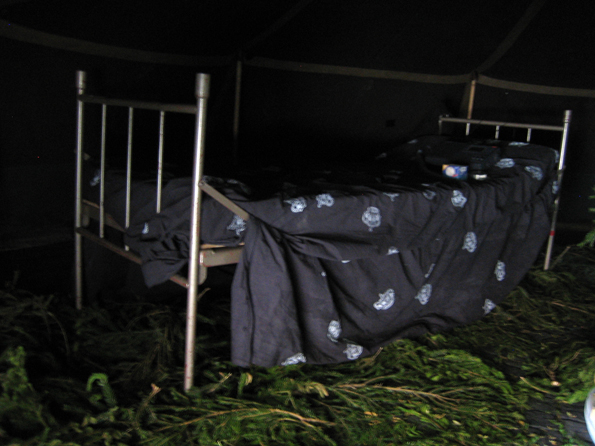 DET FRÄMMANDE FÄDERNESLANDET Project curated by Joakim Forsgren in relation to the Peace&Love festival, Borlänge, Sweden. Artists: Dorinel Marc, Sandra Isacsson, Daniel Boyacioglu, Leif Elggren. June 29 – July 1, 2010. More about this here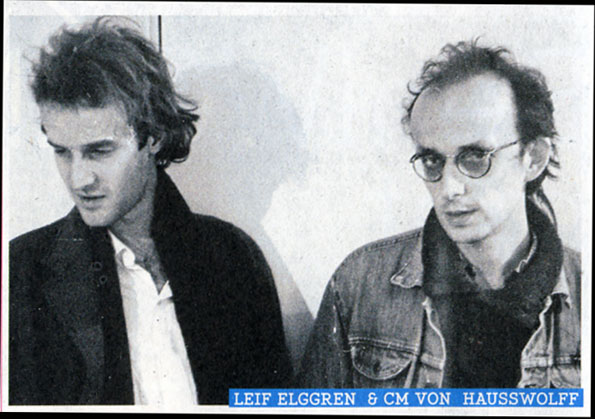 ARTISTS IN RESIDENCE June 2010, WORM, Rotterdam, The Netherlands. More about this here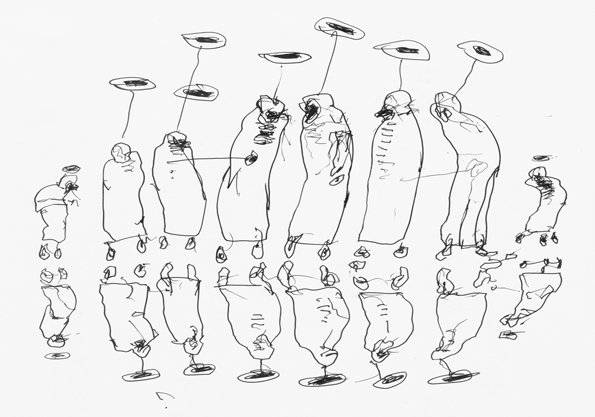 FYSIOLOGISKA FREKVENSER Vernissage lördag 29 maj kl 12-17. MARTIN BRYDER GALLERY, Nygatan 12, Lund, Sweden. 29 maj – 20 juni 2010. More about this here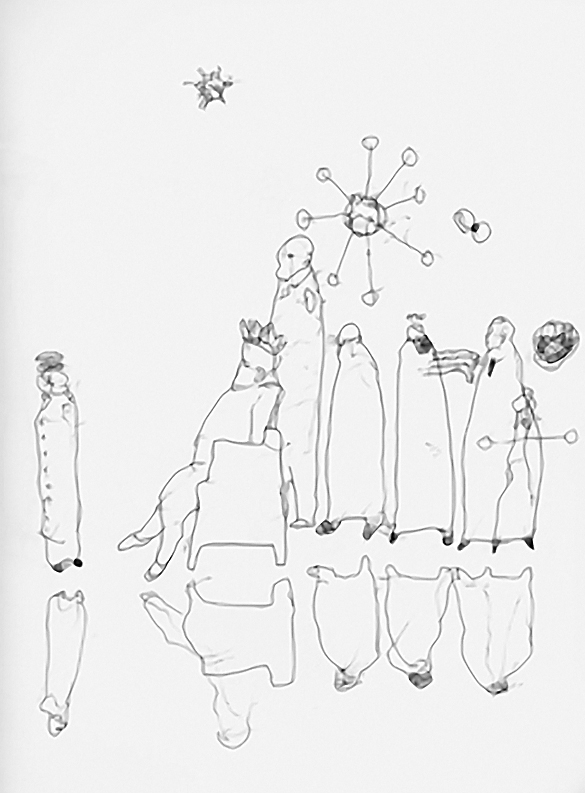 Drawings 2004-2009 A new book released by Niklas Belenius Gallery, Stockholm, April 2010. 372 p. English / Swedish text. Offset printed. Letterpress printed softcover. Size 200 x 340 mm. ISBN 978 91 87066 33 5
INGALILL A new CD in a limited edition on Rumpsti Pumsti, Berlin
More about this here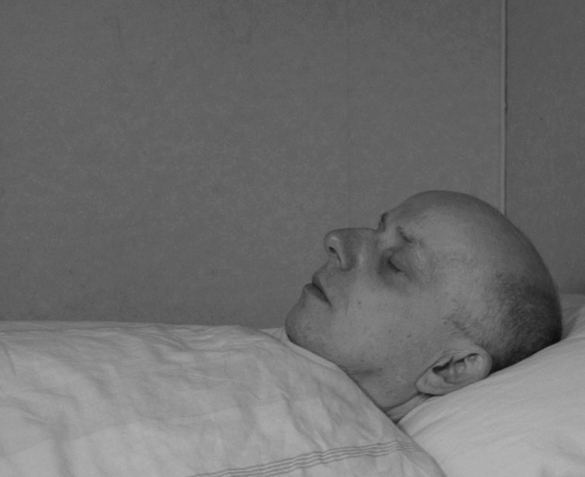 Photo: Sara Elggren
TOCHNIT ALEPH & NK BERLIN PRESENTS:
LEIF ELGGREN – EXHIBITION. DVD PRESENTATION. LIVE PERFORMANCE. SUNDAY 25 APRIL 2010. NK. ELSENSTR.52. BERLIN 10259. More about this here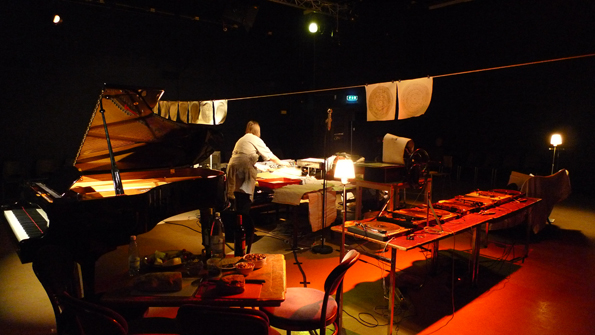 Photo: Marja-leena Sillanpää
RUNDGÅNG (Feedback). A Medial Metamorphosis. – A three working days performance by Kristine Scholz, Mats Persson, Leif Elggren, Kent Tankred and Siv Johansson. Fylkingen, Stockholm, Friday 16/4 to Sunday 18/4, 2010 between 18.00–23.00. More about this here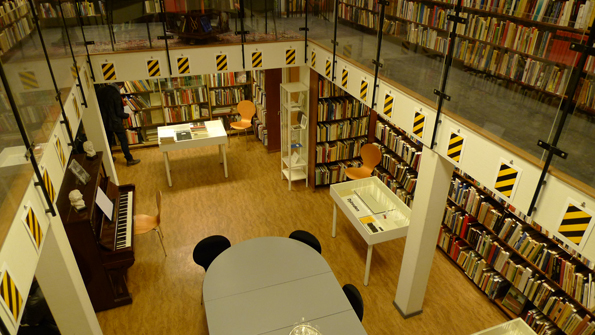 GOD'S NAME IS NOT SPELT CORRECTLY Books and letterpress prints 1981–2010 by LE. April 10 to May 8, 2010. Rönnells antiquarian bookshop, Stockholm. More about this here and here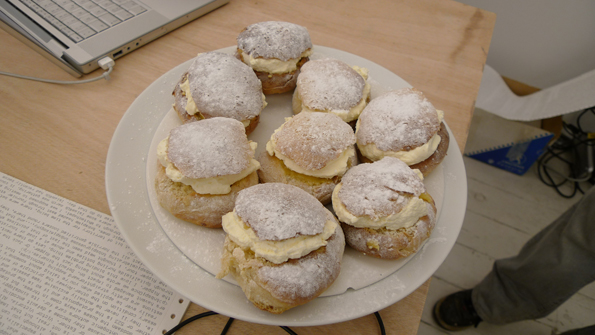 EXQUISITE CODE Introducing Swedish semla to the people of England! The first Swedish semlas ever seen since the days of Emanuel Swedenborg (or maybe Ture Sventon) were made by the artist Liam Scully on the 19th of February 2010 in conjunction with the project Exquisite_Code at E:vent Gallery, London. The recipe for the semla was taken from the cover of the CD "The Summerhouse" (released 2007 by Michael Esposito, E Swedenborg and LE on Firework Edition Records). More about this here and here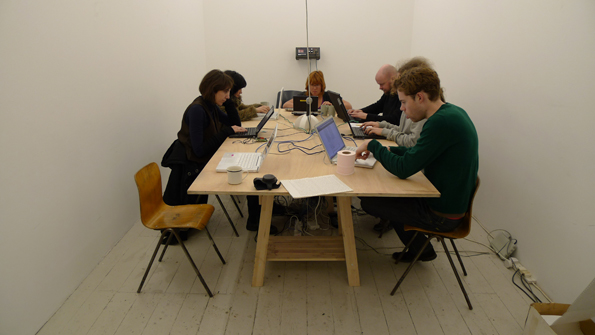 EXQUISITE CODE More about this here