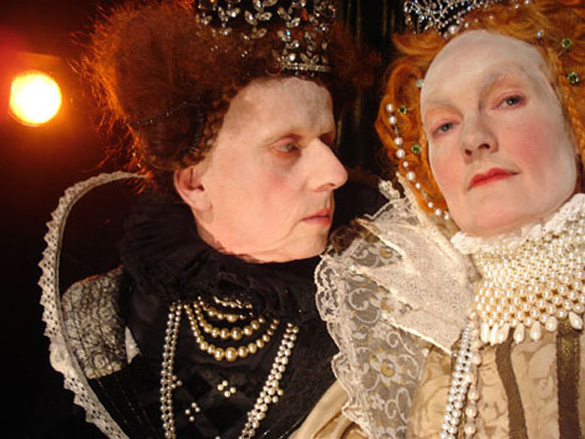 CONCERT FOR A LOST QUEEN
Rescue action in 6 movements for two performers, thousands of voices, ghost ship, spinning wheel, big bow and bulky objects.
Premiere at the Swedish Concert House, Stockholm
17 Oct 2009, 1930h
18 Oct 2009, 1600h
Sweden's most international performance star Charlotte Engelkes and the world-around-travelling composer and cellar-keeper Leif Elggren are meeting in a specially composed hybrid-concert for the Grünewaldsalen in Stockholm.
The Collaboration started in the fall 06 when Engelkes and Elggren were invited by the Swedish Radio to create a new performance/concert for the Arts Birthday at the Modern Museum in Stockholm 2007. The piece "A Tin-can Crown" consisted of eight new written songs that were performed live together with a slide-show/video. The piece was broadcasted by radio in 13 European countries and was very successfully received.
"Concert for a lost Queen" is their new collaboration and a performative concert piece for two performers, thousands of voices and musical objects.
The performance is created from own texts and dream stories. The human dream cycle is used as a tool for to go through different worlds and levels of consciousness. Pre-recorded sounds are the basic source for the electronic composition and the arrangements for stories and songs. Different new invented and built sounding objects, instruments and video material are reinforcing this. The concert is a choreographed visual performance, inspired by string quartet, mass and mechanical workshop. Executed of course with most Royal grace. [Charlotte Engelkes]