COLOUR OUT OF SPACE. Brighton's fourth annual festival 30th of October-1st of November 2009. Three days of unstructured, experimental sound and art drawn from an international subculture of musicians, artists and filmmakers.
A LECTURE ENGULFED : MUSSEL, MUSE, MEDUSA. Jean-Philippe Antoine, Leif Elggren, Centre Pompidou, Paris, PETITE SALLE, MONDAY 26 OCTOBER, 7 PM. "(Moule, muse, méduse)2" pays tribute to Marcel Broodthaers (1921-1976) on the 33rd anniversary of his death. Jean-Philippe Antoine and Leif Elggren start out from the gesture whereby, in 1964, the Belgian poet sold out to the plastic arts by turning into a Pop artist, and reinstated the Mallarméan genealogy: the Throw of the Dice inventing "the modern and contemporary space of art", versus a kitsch glorification of the song hailing from Romanticism. But this exercise in demystification through space, relentlessly subject to the bourgeois commodification that it was meant to counter, continues to be inhabited by invisible Muses and Sirens. Broodthaers strove to reinstate their presence, through novel "literary" methods borrowed from Nerval, Baudelaire, Banville, Mallarmé, and Heine. Thus comes forth, in the form of exhibitions and publications, the pre-history in the 19th century of the society of the spectacle, its survival, and its effectiveness in our present day, and lastly the modules of resistance which nestle therein. Started in the initially stable form of a lecture, "(Mussel, muse, medusa)2" will end as a spiritual concert. JEAN-PHILIPPE ANTOINE lives and works in Paris. LEIF ELGGREN lives and works in Stockholm.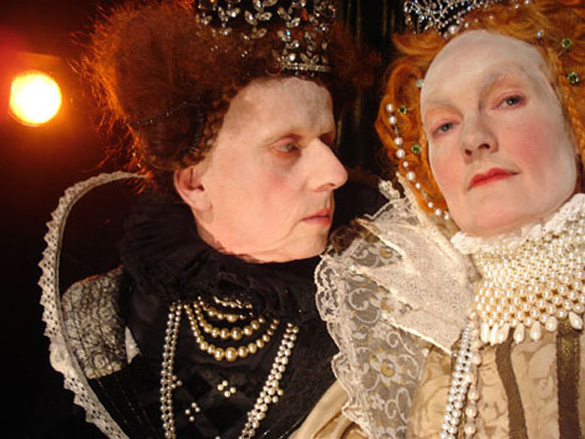 CONCERT FOR A LOST QUEEN
Rescue action in 6 movements for two performers, thousands of voices, ghost ship, spinning wheel, big bow and bulky objects. Premiere at the Swedish Concert House, Stockholm, 17 Oct 2009, 1930h. 18 Oct 2009, 1600h. Sweden's most international performance star Charlotte Engelkes and the world-around-travelling composer and cellar-keeper Leif Elggren are meeting in a specially composed hybrid-concert for the Grünewaldsalen in Stockholm. The Collaboration started in the fall 06 when Engelkes and Elggren were invited by the Swedish Radio to create a new performance/concert for the Arts Birthday at the Modern Museum in Stockholm 2007. The piece "A Tin-can Crown" consisted of eight new written songs that were performed live together with a slide-show/video. The piece was broadcasted by radio in 13 European countries and was very successfully received. "Concert for a lost Queen" is their new collaboration and a performative concert piece for two performers, thousands of voices and musical objects. The performance is created from own texts and dream stories. The human dream cycle is used as a tool for to go through different worlds and levels of consciousness. Pre-recorded sounds are the basic source for the electronic composition and the arrangements for stories and songs. Different new invented and built sounding objects, instruments and video material are reinforcing this. The concert is a choreographed visual performance, inspired by string quartet, mass and mechanical workshop. Executed of course with most Royal grace. Charlotte Engelkes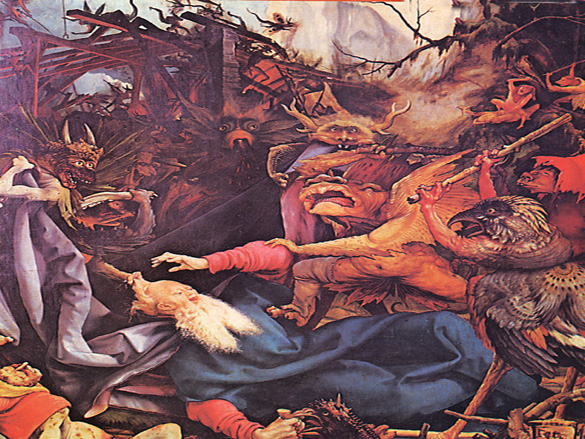 DAS DREIDIMENSIONELLE SCHRIFTSPRACHE.
Lecture: Das Dreidimensionelle Schriftsprache. A journey through the impossible dimensions that is said to be closed for humans. About prophets, seers, saints and other people with the exceptional gift to be able to communicate with other worlds. Dedicated to Dr Konstantin Raudive. Organised by Kim and Sound Forest. 16th of July 2009 at 19:00. Spikeri, 12/1 Maskavas Street, RIGA, Latvia. www.kim.lv www.skanumezs.lv EVP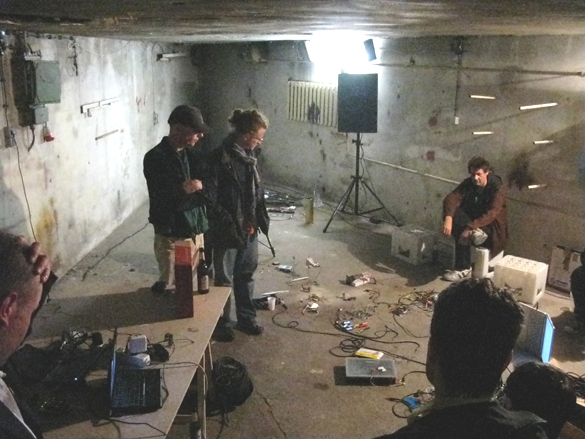 BREAKTHROUGH. The image from a collaborative experiment (using the classic Dr. Konstantin Raudive technique with a Germanium diode to contact the other side) inside the Breakthrough project between Alejo Duque, Baruch Gottlieb, Leif Elggren and (at the other side of the Atlantic Ocean, in Chicago) Michael Esposito at General Public, Berlin 27th of June, 2009. Photo: Alejo Duque. 1010.co.uk 1010.co.uk/org scrying.org
Many Voices Report from aleij on Vimeo.
Leif Elggren live at Strand Sthlm from Andreas K on Vimeo.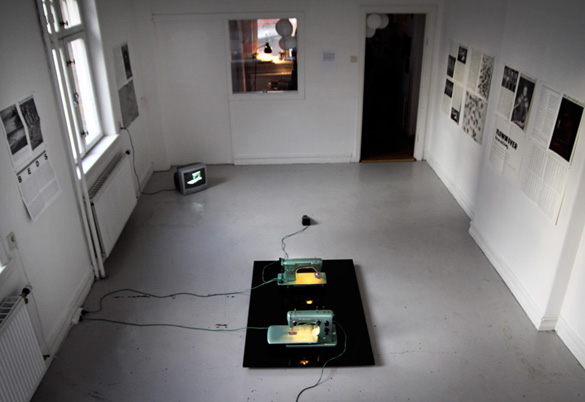 CELEBRATION OF A REVOLUTION.
Solo show by Leif Elggren April 4-May 3, 2009. Live performance: Pär Thörn and LE. Photo: Jonatan Jacobson KRETS Gallery, Malmö, Sweden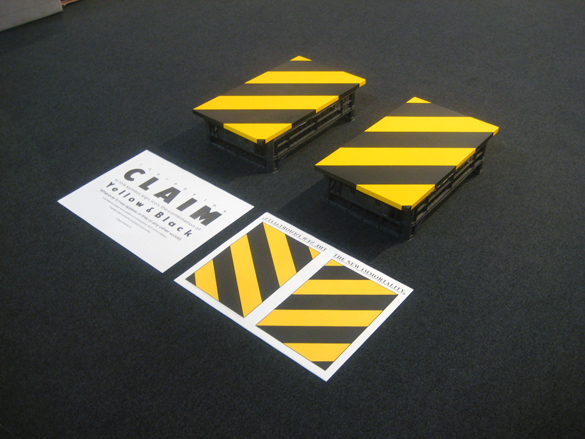 ROMA – THE ROAD TO CONTEMPORARY ART, 2009.
WILLEM ANDERSSON,
 CM VON HAUSSWOLFF,
 LEIF ELGGREN
. 2nd–5th April, 2009. Gallery Niklas Belenius. Location: Complesso Monumentale di Santo Spirito in Sassia, Borgo Santo Spirito 2, Rome.
 Curated by Daniela Cascella.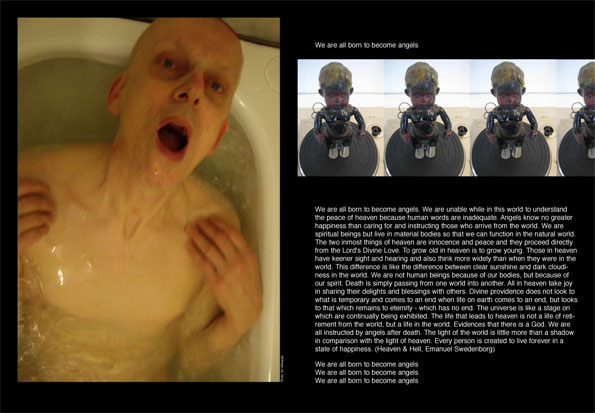 WE ARE ALL BORN TO BECOME ANGELS.
(First published in Paletten #275, 1/2009.)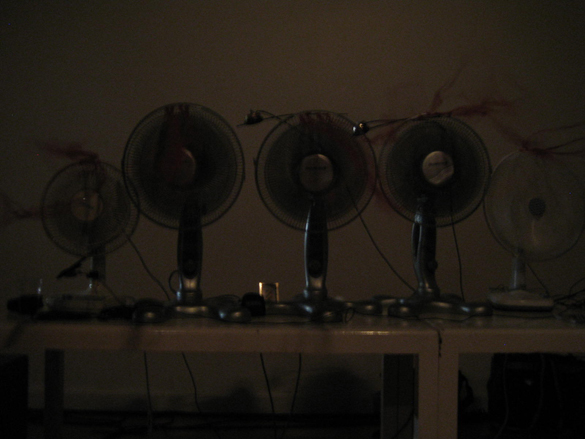 FIVE FANS FOR SONIC PROTEST AND KAFFE.
Concert at the Centre Culturel Suedois in conjunction with the Sonic Protest festival, Paris, December 9, 2008.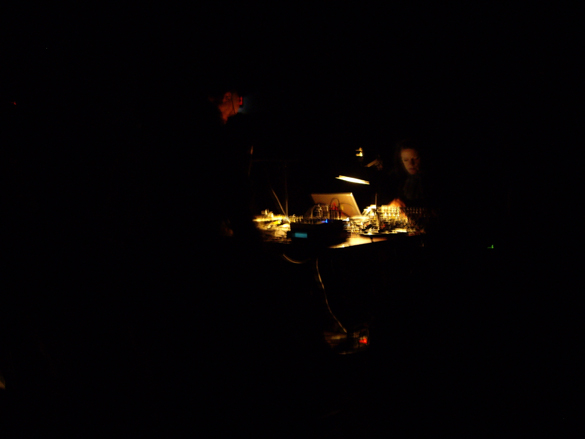 KAFFE MATTHEWS & LEIF ELGGREN.
Five Fans For Fylkingen. Thursday, November 27, 2008. Fylkingen 75 years anniversary, Stockholm. www.fylkingen.se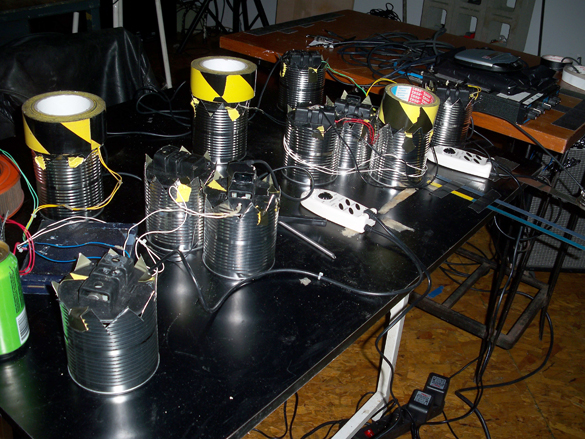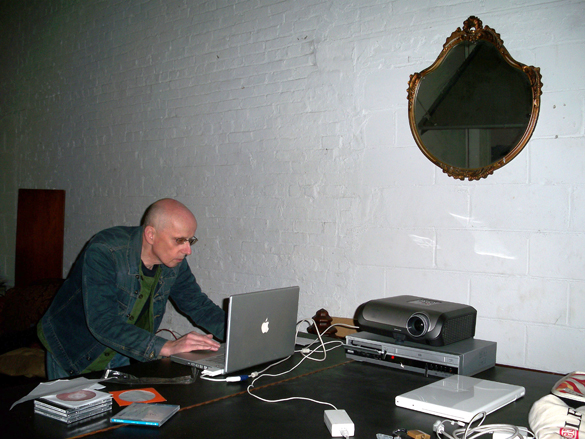 Photo: Robert R Marsters www.krevlostandfoundministry.com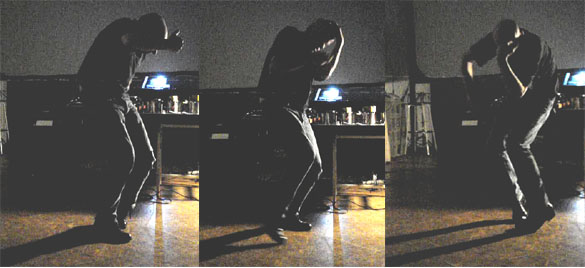 CHOP SHOP & LEIF ELGGREN. Saturday, November 1, 2008, 8pm. ISSUE PROJECT ROOM
 At the Old American Can Factory 
232 3rd Street, 3rd Floor 
Brooklyn, NY 11215, USA here. Photo: Fabio Roberti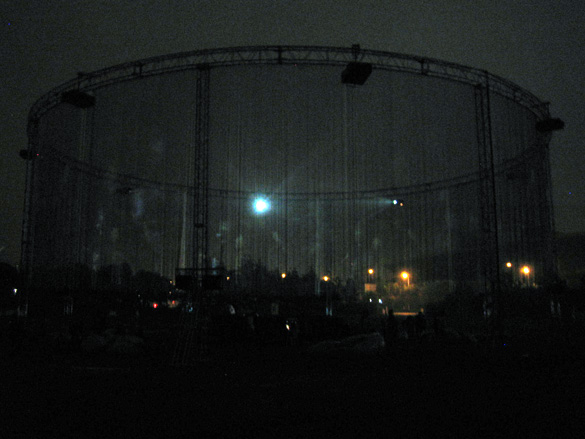 BY COLLUSION. Audio-visual performance as a part of the eARTS festival in Shanghai, China, October 18, 2008.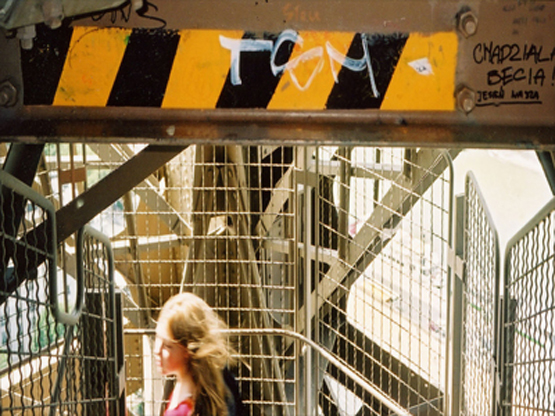 YELLOW & BLACK. Exhibition at Jr. Konsthallen, Linköping, Sweden. Aug 16-Oct 5, 2008.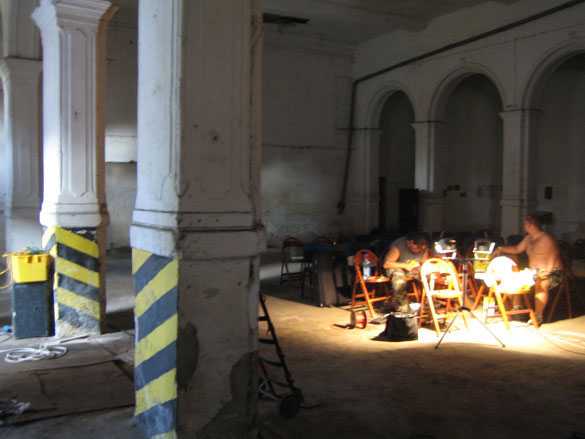 Something Must Break in the framework of the alternative music festival OFF in Myslowice, Poland. 7th – 11th of August 2008.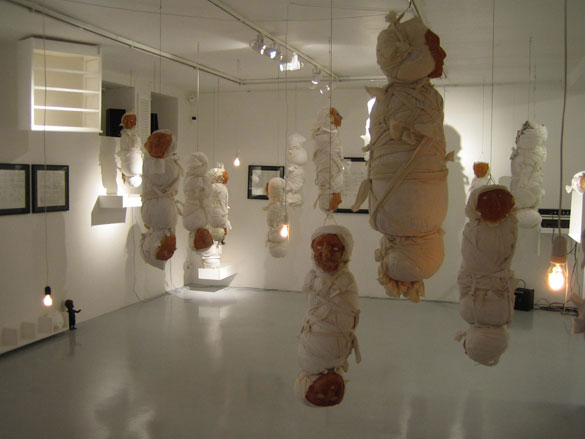 ETT STRÄCK I RÄKNINGEN. LOTTA MELIN – LEIF ELGGREN – KRISTINE SLETTEVOLD. Exhibition and performance at Gallery Niklas Belenius, Stockholm. April 24-27, 2008.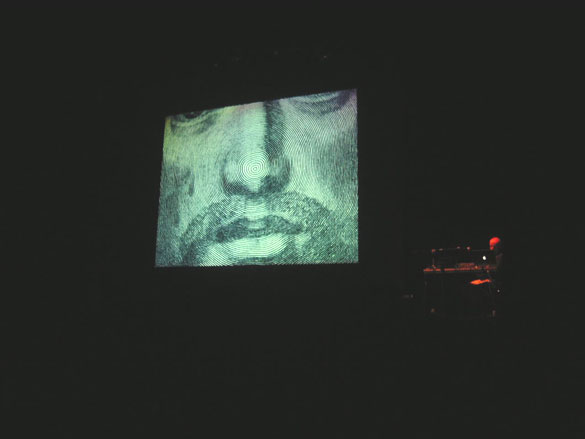 ILIOS Curating: "SDR Muestra de Arte Sonoro de Santander" with: Olivia Block, Leif Elggren, ILIOS, Zbigniew Karkowski/Tetsuo Furudate, Carl Michael Von Hausswolff, Francisco Lopez, Elgaland-Vargaland. 5-6 April 2008: Santander, Spain.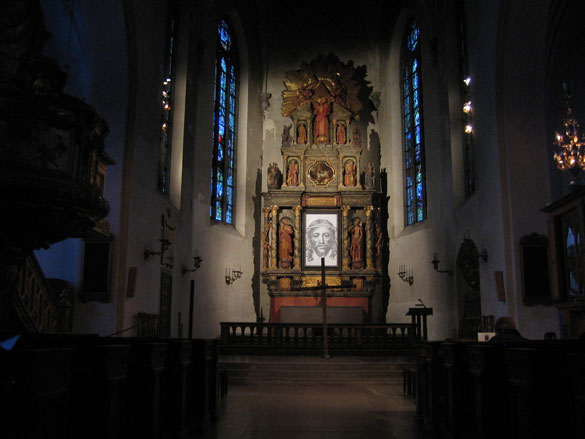 The Church of St Jacob, Stockholm, March 21-23, 2008. The Sudarium of St Veronica.
Installation and first performance.
MOVING FOREST.
Berlin, transmediale.08 – CONSPIRE – Festival 30 Jan – 3 Feb 2008 – Opening 29 Jan 2008. Haus der Kulturen der Welt, John-Foster-Dulles-Allee 10, 10557 Berlin, Germany. www.transmediale.de A durational sonica with citywide wifi transmission, February 1, 11:00 – 23:00 curated by Shu Lea Cheang + Martin Howse. Moving Forest is a 12 hour 5 act sonic performance to be intervened by an expandable citywide operatic manoeuver with public wifi and mobile technology. Derived from Kurosawa's film version of Macbeth, Spider Web Castle (aka Throne of Blood, 1957), Moving Forest renders the film's final sequences (12 minutes in length) into a 12 hour sonica of grand scale. Moving Forest presented by AKA THE CASTLE. AKA the castle is a temporal performance troop brought together to produce the 12 hour extravangaza Moving Forest. Conceived by Shu Lea Cheang and Martin Howse, AKA the castle pushes the network performance genre by gathering soundists, silk threaders, writers, visual artists, software artists, wifi fielders for a durational performance fueled with remorse, betrayal and a grand act of insurgency from people/s front. The players: Castle (HKW):; omen [Mattin]; remorse [Leif Elggren] – concept/setup; betrayal [Kaffe Matthews]; overthrow [Joachim Montessuis] – details; return [Phill Niblock with Natalia Pschenitschnikova], and many others.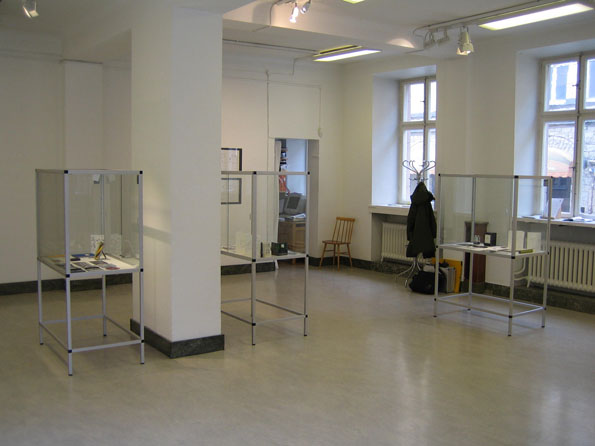 GALLERI KRONAN.
Solo show at Galleri Kronan, Norrköping, Sweden February 23 – March 9, 2008. more info here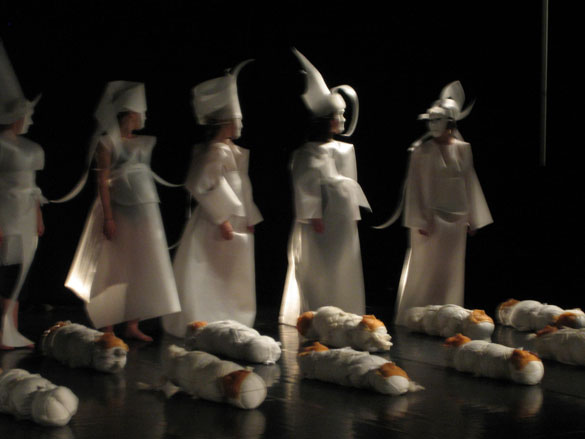 FLYING SICKNESS IN THE SKY.
Choreography by Lotta Melin. Moderna Dansteatern, Stockholm, October 17-18, 20-21, 24-28, 2007. Music by Leif Elggren. Set design by Leif Elggren and Lotta Melin. Dancer: Kristine Slettevold.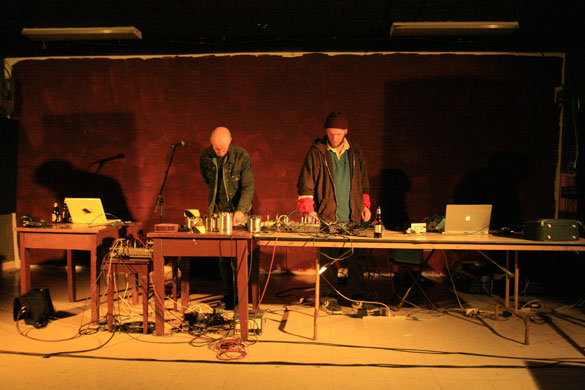 #95 Chicago, February 24, 2007. Performance by Leif Elggren & Kevin Drumm. Photo: Angeline Evans.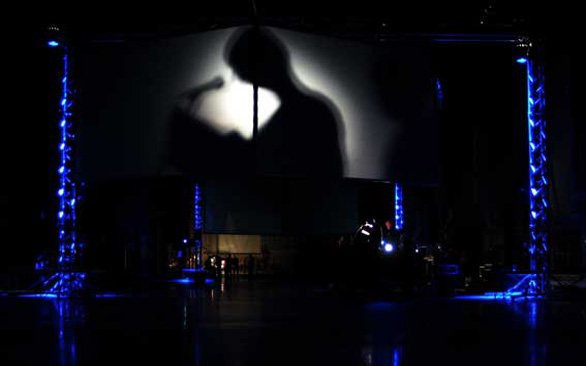 SOMETHING LIKE SEEING IN THE DARK.
2007, 25 January 22:30. Concert with John Duncan. Netmage 07. Also included: Aki Onda/Oren Ambarchi/Alan Licht, Emiliano Montanari w/David Lynch, Angelo Badalamenti, Enrico Ghezzi, Asja Bettin, shortcircuits with Thomas Pynchon, Paul Virilio, Hideo Kojima. Palazzo Re Enzo, Bologna, Italia. Organized by xing. Photo by Luca Ghedo. Netmage07John Duncan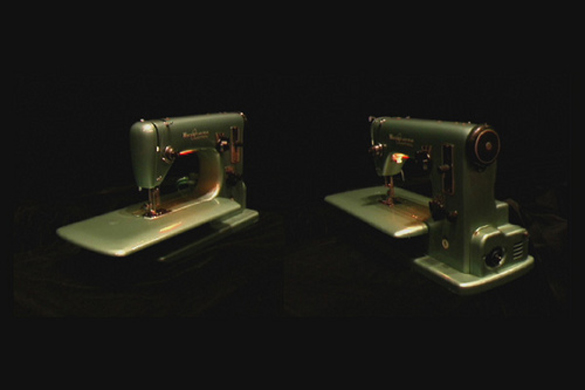 CELEBRATION OF A REVOLUTION.
Leif Elggren's "Celebration of a Revolution" screened at Sixth Annual Activating the Medium Festival 2006, San Francisco Art Institute.
Illusion is a Natural Condition.
CD packaging design for Dave Phillips + R. H.Y. Yau collaboration "Illusion is a Natural Condition." Features a series of ten original drawings by Leif Elggren lithographed on individual cards. Released 2005 on Auscultare Research/Ground Fault Recordings. Artwork: Leif Elggren. Layout: R. Yau. www.groundfault.net www.artnotcrime.net/dp www.23five.org/rhy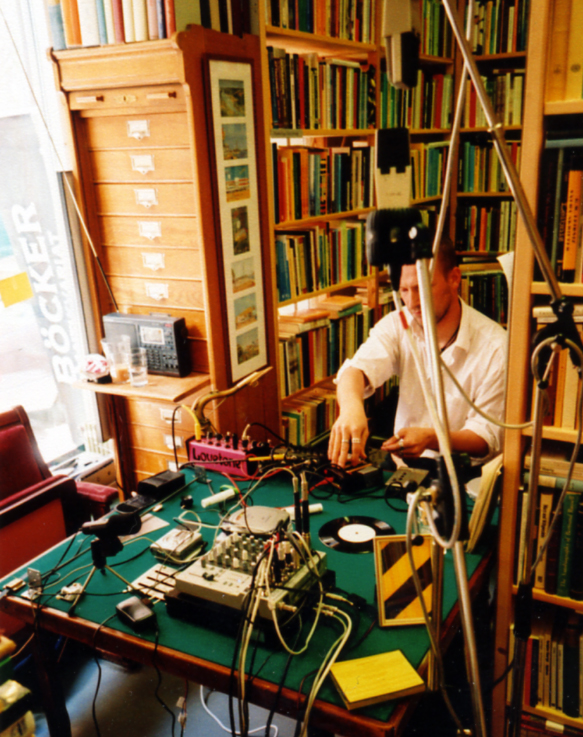 WORKING DAY.
Mats Gustafsson and LE. "Working day" (Creating free sounds for to eliminate the horrible injustice in the world). Three working days (full day concerts) at three different antiquariats in Stockholm 2003. Hundörat, Sankt Paulsgatan 15. May 14, 1200 – 1800. Andra Böcker & Skivor, Rörstrandsgatan 25, May 21. 1400 – 1830. Rönnells Antikvariat, Birger Jarlsgatan 32. May 28, 1000 – 1800. Mats Gustafsson here.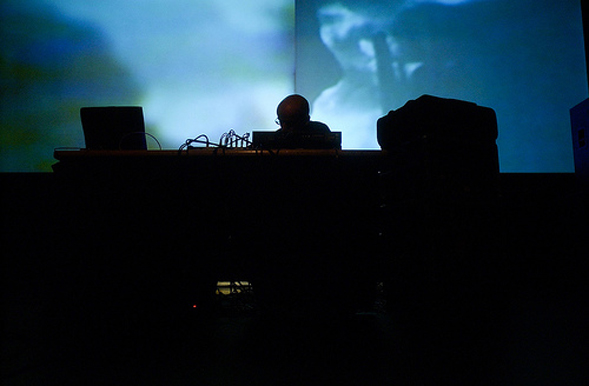 ARRANGING FOR AN OPENING OF A TELEPORT TO SHANGRI-LA.
Leif Elggren performing "Arranging for an Opening of a Teleport to Shangri-La" at the sixth annual Activating the Medium festival, San Francisco Museum of Modern Art. February 7, 2003. Photo by Joe Johnston. More info here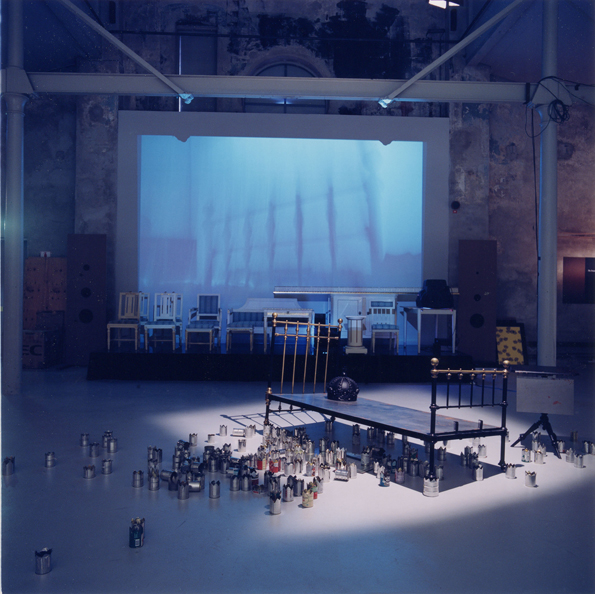 FLOWN OVER BY AN OLD KING.
Leif Elggren solo exhibition at Färgfabriken, Stockholm, October 14 – November 26, 2000. Curator: CM von Hausswolff. Co-curator: Jan Åman. More info here.