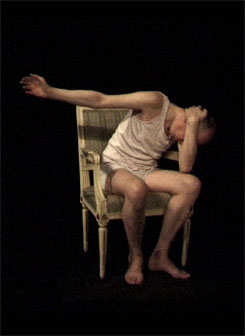 DEATH TRAVELS BACKWARDS.
DVD digipack with ten short films by LE and text by Brandon LaBelle and LE. "Death Travels Backwards documents Elggren's ongoing engagement and use of video. Cataloguing a collection of works from 1999 to the present, Death Travels Backwards delivers an important overview of the artist's pursuit of the hidden secrets and spectral enigmas found within the everyday. What marks Elggren's video works is an under-standing of how image and sound work together to infuse the electronic material with an element of the uncanny, and to supply the imagination of the viewer with a glimpse onto infinity." Released by Errant Bodies Records #05 (2009). More info here Design by Fliegende Teilchen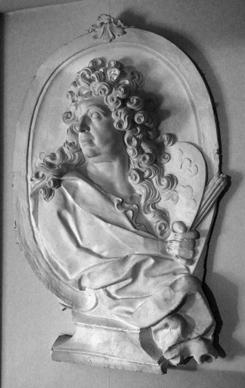 Nicodemus Tessin the Younger:
David Klöcker Ehrenstrahl.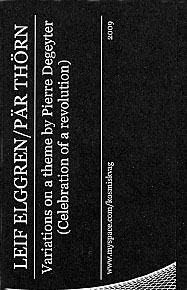 PÄR THÖRN / LEIF ELGGREN
More about this here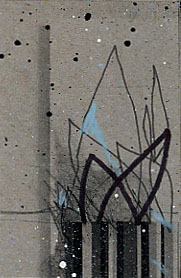 NAMIBIA. More about this here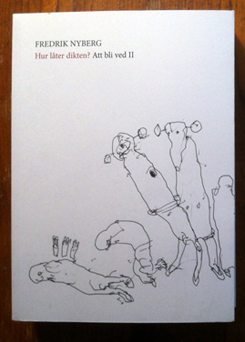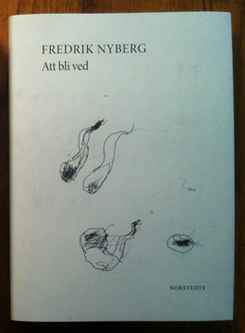 Fredrik Nyberg's new collection of poems ATT BLI VED and his Ph.D. dissertation HUR LÅTER DIKTEN? ATT BLI VED II. Drawings by LE on the cover.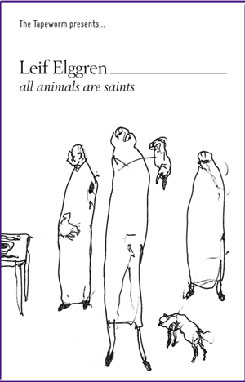 ALL ANIMALS ARE SAINTS. More about this here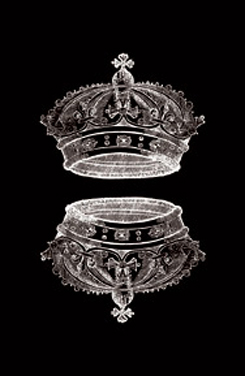 THE KINGS CURVE. More about this here
IT IS SAID THAT NO QUEEN IS A QUEEN. Choc.236.  Volume 1 in 'The Well Spliced Breath' series, presenting some new choice cuts of voice, text/sound composisition, tape collage and the like. 
"It Is Said That No Queen Is A Queen was recorded 19th November 2011 by Alex Inglizian at Lampo, Graham Foundation, Madlener House, 4 West Burton Place, Chicago. The text was written by LE for the Concert For A Lost Queen, a performance / concert together with Charlotte Engelkes at the Swedish Concert House, Stockholm, 17 October 2009." All volumes in the series are a number edition of 60, in generic sleeves with unique insert. More about this here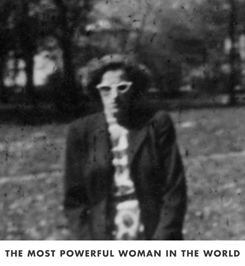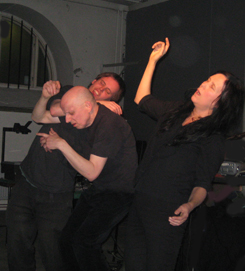 THE THIRD POWER. Performance artists Marja-Leena Sillanpää, Pär Thörn and Leif Elggren explore the aesthetic implications of breakfast chats, printing ink and mishearings. They explore the fragmentary orchestra pit of music, the heroic features of everyday life and the emptiness of mass media. This performative work is realized through cut-up-technique, voice, improvisation and movement. Tredje statsmakten [The fourth estate of power] [The Third Power] has performed at Inkonst in Malmö and Weld in Stockholm (Sweden), Röda Sten In Göteborg (Sweden) and Gallery Myymälä in Helsinki (Finland). A new book called Tredje Statsmakten will be released in Malmö on the 6th of November 2010. www.myspace.com/tredjestatsmakten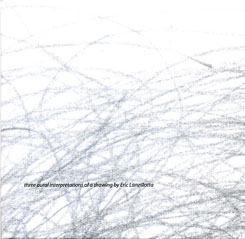 Three Aural Interpretations of a Drawing by Eric Lanzillotta.
In 2007 a posthumous release was done to fill in the missing catalog number NOM28. Three Aural Interpretations of a Drawing by Eric Lanzillotta is exactly that, and features specially commissioned recordings by Jeph Jerman, Leif Elggren and Ralf Wehowsky. This 7″ record was pressed on clear vinyl in an edition of 250 copies and was mastered at 33 RPM to hold the 12 minutes of sound. This is all packaged in a poster sleeve that opens up to reveal the original drawing that inspired the sounds. This was a one off release, and no further releases on Anomalous Records are planned. This release is now sold out, but should still be available from a few other distributors. More about this here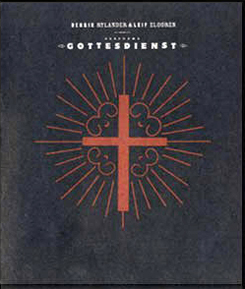 GOTTESDIENST. iDEALrecordings, iDEAL039, CD, 500 copies, 2005.11.30: Henrik Rylander (ex-Union Carbide Productions, also active in the Skull Defekts) and Leif Elggren (KREV, Firework Edition, the Sons of God) performed at Spire, live in Masthuggskyrkan in Gothenburg, wich was curated b Mike Harding of Toch, as part of Goteborg Art Sounds 2005. This long piece was executed at an extreme volume, and it was seriously painful to experience the damn thing. But here it has mysteriously become very listenable and even revealing a rhythm. It is a truly powerful piece by two of Swedens cutting edge artists. Features two remixes, one by the Idealist and the comeback of sound terrorist C.P.U. A very mysterious release. Even to us. More about this here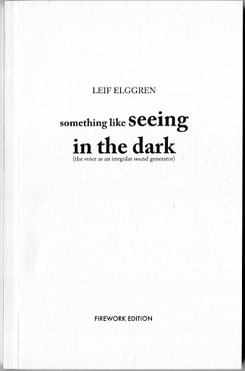 SOMETHING LIKE SEEING IN THE DARK. Stockholm, March 2011. 56 p. English text. Offset printed. Size 110 x 171 mm. ISBN 978 91 87066 36 X Firework Edition No. 118. Something Like Seeing in the Dark was written in July 2005 and performed live by LE in the concert with the same name together with John Duncan, January 25, 2007 at Netmage 07, Palazzo Re Enzo, Bologna, Italia. Something Like Seeing in the Dark was printed in a leaflet designed by Alisa Wolfson in conjunction with a concert by Kevin Drumm and LE, February 24, 2007 at Lampo, Chicago, USA. Something Like Seeing in the Dark (If other people exist then they are totally sealed secrets) was printed in the paper The New Immortality #4, Firework Edition, March 2007, Stockholm, Sweden. Something Like Seeing in the Dark was the title of an exhibition by John Duncan and LE at Gallery Niklas Belenius, Stockholm, October – November 2007. (Something Like Seeing in the Dark can be seen upon as a little brother to the book Physiological Frequencies.) (Something Like Seeing in the Dark is also related to the one sided LP If Other People Exist, released in May 2011 by Excrete Music #2, Firework Edition Records FER1092.)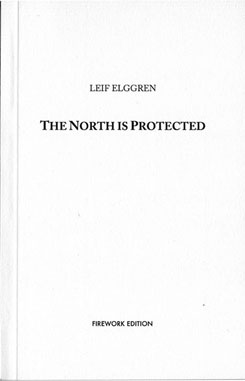 THE NORTH IS PROTECTED. Stockholm, 2011. 56 pp. English text. Offset printed. Size 110 x 171 mm. ISBN 978 91 87066 38 6. Firework Edition No. 119. www.fireworkedition.com – This text was written for and first published in the catalogue for the Nordic Pavilion, la Biennale di Venezia, June 10 – November 4, 2001, an exhibition by CM von Hausswolff, Tommi Grönlund, Petteri Nisunen, Anders Tomren and LE. "The North is Protected" on the CD "The Cobblestone Is The Weapon Of The Proletariat", Firework Edition Records 2004. "The North Is Protected" a film by John Duncan 2005. 19 minutes. Soundtrack by John Duncan and Jean-Louis Huhta. Filmed in and around Scrutto di San Leonardo, Friuli Venezia Giulia, Italy. www.johnduncan.org – "The North is Protected" for the 3rd annual unofficial Nobel Peace Prize Internet art exhibition 2010 at www.nobelprize.no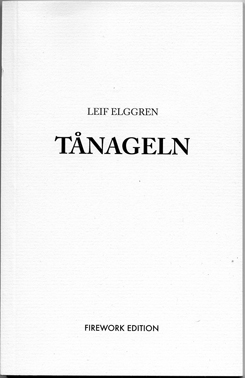 TÅNAGELN. Stockholm, maj 2013. 74 sidor. Svensk text. Offset. Trådbunden. Format: 110 x 171 mm. ISBN 978 91 87066 39 4. Firework Edition No. 120. www.fireworkedition.com www.fireworkeditionrecords.com
Den här boken skrevs under en längre vistelse i New York 2011 – 2012. Minnen och drömmar gör sej gällande och går i dagen i fullt dagsljus; exponeras och skärskådas. Med hjälp av ett visst avstånd. Ett gammalt mönster löses upp och en ny struktur tecknas. Finns där en bakomliggande och okänd drivkraft? Finns där ett dolt motiv? Kanske till och med en plan? Ett persongalleri skymtar, men själva huvudpersonen lyser starkt med sin närvarande frånvaro. En längtan efter ett nytt inträde, en ny vända. Som ett försök att få det ogjort. Kanske chansen till en genväg… Konungen är död, länge leve konungen! Föregångarna heter: The North Is Protected (2011), Something Like Seeing In The Dark (2011), Physiological Frequencies (2009), Genealogy (2005). "Det är så märkligt, min far håller på att återfödas med hjälp av en tånagel på min vänstra fot. Ringtånageln om man kan säga så. Den har varit lite liksom komplicerad länge den tånageln. Tjock och gul och ful och pinsamt berörd har man blivit när man tittat på den, men ingen har fått se den, den har hållits undan för de andra. Skämts bort, liksom. Fast med skam och skuld. Har jag gjort något fel?"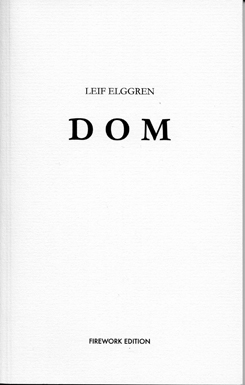 DOM. Stockholm, March 2014. ISBN 978 91 87066 43 2. Firework Edition No. 124. 56 p. Swedish text. Offset printed. Size 110 x 171 mm.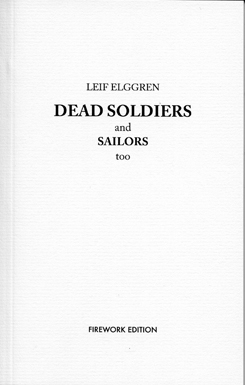 DEAD SOLDIERS and SAILORS too. Stockholm, March 2014. ISBN 978 91 87066 44 0. Firework Edition No. 125. 74 p. 64 drawings. English text. Offset printed. Size 110 x 171 mm.
–